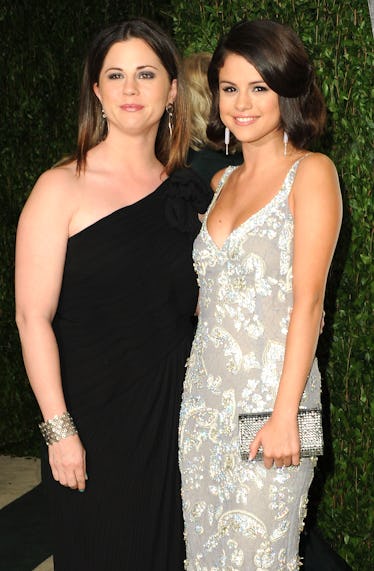 How Selena Gomez's Mom Freaked Out During Her Scary Transplant Surgery Is Heartbreaking
Pascal Le Segretain/Getty Images Entertainment/Getty Images
I can't even imagine the pain and stress of knowing that your child is going through an incredibly scary surgery. It must be the most horrible feeling knowing that the person you've raised is going through a situation that you have no control over, and guess what? This sentiment doesn't change in the slightest if your kid is a celebrity, because at the end of the day, we're all human. Many celebs do actually face the same struggles that us regular folk do — and some live with health concerns that are even more difficult than the average person, like Selena Gomez. And Selena Gomez's mom's reaction to her transplant surgery is exactly what you'd expect from a mother, and it is so, so heartbreaking.
Selena Gomez's mother, Mandy Teefey, sat down with Entertainment Tonight's Katie Krause for a Facebook Live discussion about her production company, Kicked to the Curb Productions, and its popular Netflix series, 13 Reasons Why. Teefey opened up about the frightening experience of watching her daughter undergo a kidney transplant, which ultimately saved her life.
"That was probably one of the hardest things to ever experience as a parent, and especially when there were complications, and it was just me and her, and she had to go in," Teefey said.
She revealed that she was not only worried for Gomez, but for the kidney donor, who is Gomez's close friend, actress Francia Raisa. She said,
I was not only carrying the weight first as the mother, but I also felt the weight for Francia and her mother and her family. I think I'm banned from Cedars. I went to both sides of the towers. For some reason they were in different towers, and every little thing, I was monitoring, like, yelling and freaking out. It was pretty rough. God bless any of the families that have kids with ongoing illnesses because the strength that those families have is insane.
Just thinking about that scenario unfolding is giving me chills.
Days after Gomez revealed that she had undergone a kidney transplant due to complications from lupus, Teefey posted an emotional Instagram on Sept. 17, 2017, that paid tribute to not only her daughter, but to the friend who helped save her. She wrote,
This picture is one of the most breathtaking images that will live with me forever. For all those moments of not knowing if we were going up or going down, I can always come back to this picture and know we can always make it back up. As a mother I was helpless, scared and all I could do was pray for both of them, Francia's beautiful family. I am pretty sure I am banned from that hospital. Mama Bear was in high gear. Selena gained a kidney, I was able to keep my little girl, but I also gained another daughter.... thank you to everyone who was there for Sel, Francia and our families. We survived from all the love, prayers and God.
Are you crying? Because I'm crying.
In her Facebook Live chat, Teefey also spoke about meeting Francia Raisa for the first time at the Teen Choice Awards, and how impactful that introduction was. "She was one of the first people that was not part of the [Disney] channel that introduced herself to Selena and made her feel comfortable at the Teen Choice Awards," she said. "I remember the moment I met Francia, and I can't tell you the moment I met a lot of people. Like, literally where it was. So, I think that's just strange how things lined up."
Teefey also shared that Raisa "just walked up to Selena and gave her a hug and made her feel welcome, and that resonated with me, because it's such a tough industry and you don't really get that a lot."
So now that there is a bucket of tears on my floor, let's all just thank the powers that be that good does exist in the world. This story gives me all of the feels, and, despite what everyone involved had to go through, it seems that things are only looking up for Selena, Francia, and Mandy.