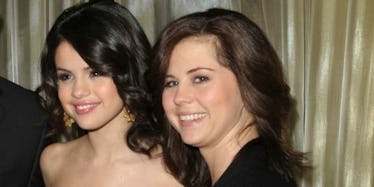 Selena Gomez's Mother Shares Emotional Message About Her Daughter's Kidney Transplant
Getty Images/ Kevin Winter
Selena Gomez shocked fans on the morning of Sept. 14 when she revealed that she had undergone a kidney transplant as part of her treatment for lupus. The "Fetish" singer received an outpouring of love and support from fans upon hearing the news. Many of her friends and family posted sweet tributes, but one in particular has wrecked me. Selena Gomez's mother's Instagram post opening up about the ordeal is so, so emotional.
Gomez's mom, Mandy Teefey, said in an Instagram post from her account @kicked2thecurbproductions,
This picture is one of the most breathtaking images that will live with me forever. For all those moments of not knowing if we were going up or going down, I can always come back to this picture and know we can always make it back up. As a mother I was helpless, scared and all I could do was pray for both of them, Francia's beautiful family. I am pretty sure I am banned from that hospital. Mama Bear was in high gear. Selena gained a kidney, I was able to keep my little girl, but I also gained another daughter.... thank you to everyone who was there for Sel, Francia and our families. We survived from all the love, prayers and God.
I'm not crying — you are. OK, I am, but I'm not the only one. Fans commented tons of kind and uplifting messages. One fan, @cata_chubstin, commented on Teefey's post,
I'm crying so bad!!!! This is so beautiful! I love this I just...I'm soooo happy that everything it's okay! Always with you!!! #Selenatorforever
User, @mpark2188, wrote,
This is the most touching and beautiful message. I am sending so much love to your family and Francia as well.
All the love from fans was amazing. Gomez first announced that she had lupus in October 2015. The announcement coincided with the news that the singer had also gone through chemotherapy in order to treat the illness. Fans now know that when Gomez went quiet on social media, she was actually undergoing chemo and attending rehab for her mental health, which was dramatically affected by the disease. Needless to say, Gomez has endured a lot with her health, and continues to spread awareness for lupus.
To tell fans about the kidney transplant, Gomez took to Instagram to expose her health news. The Instagram caption said,
I'm very aware some of my fans had noticed I was laying low for part of the summer and questioning why I wasn't promoting my new music, which I was extremely proud of. So I found out I needed to get a kidney transplant due to my Lupus and was recovering. It was what I needed to do for my overall health. I honestly look forward to sharing with you, soon my journey through these past several months as I have always wanted to do with you. Until then I want to publicly thank my family and incredible team of doctors for everything they have done for me prior to and post-surgery. And finally, there aren't words to describe how I can possibly thank my beautiful friend Francia Raisa. She gave me the ultimate gift and sacrifice by donating her kidney to me. I am incredibly blessed. I love you so much sis. Lupus continues to be very misunderstood but progress is being made. For more information regarding Lupus please go to the Lupus Research Alliance website: www.lupusresearch.org/ -by grace through faith
Gomez was gifted the kidney from her longtime best friend and actress, Francia Raisa. The Secret Life of The American Teenager actress shared the same photo as Gomez and Teefey, but captioned it with her own personal message.
I am beyond grateful that God would trust me with something that not only saved a life, but changed mine in the process. This was part of our story, and we will share it soon, but what is important now is that this is not the only story. For more information regarding Lupus, please go to the Lupus Research Alliance website: www.lupusresearch.org — Love you sis, so glad we're on this journey together. <3 xx
I'm so glad Selena is doing well. Although I couldn't imagine the health problems she has weathered, it's amazing to see the strength of her support system. Love you, Sel.
Check out the entire Gen Why series and other videos on Facebook and the Bustle app across Apple TV, Roku, and Amazon Fire TV.