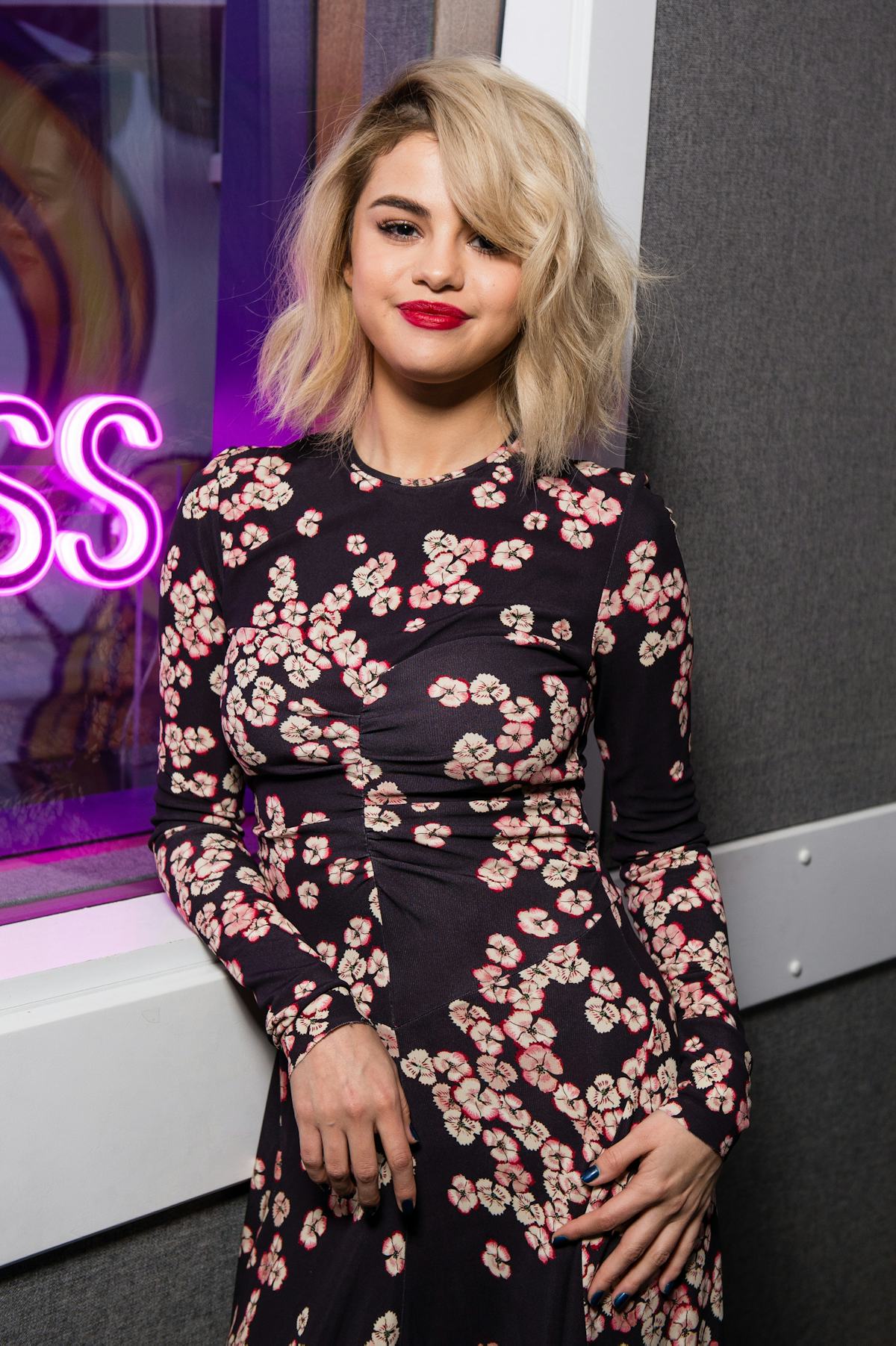 Selena Gomez's Best Nine Photos On Instagram Include The Weeknd, So That's Awkward
Jeff Spicer/Getty Images Entertainment/Getty Images
Taking some time to reflect all that you've accomplished at the end of the year is something I highly encourage everyone to do. For me, mastering a curling wand was one of my greatest achievements for 2017, and it's something I'm really proud of. For other people, like Selena Gomez, it's getting over 500-million likes on nine Instagram photos, which I guess is almost as important as having on-point hair? So when Instagram's Best Nine photos appear at the end of the year, it's always pretty cool to see which photos got the most accolades, and for celebrities, it's no different — particularly in the case of Selena, whose Best Nine photos are being shared on Twitter. But there's something, erm, off about some of the photos, and that's the fact that Selena Gomez's ex-boyfriend The Weeknd, is included in a few frames of the collage. Eesh. Awkward much?
It wasn't ALL about The Weeknd though, so I guess Bieber can be thankful for that. Included in the photos are pictures of Gomez looking fly on the red carpet, looking slamming sitting on a table surrounded by balloons, and a powerful photo of Gomez with her kidney donor, Francia Raisa, who is a close friend and former star of The Secret Life of the American Teenager.
Have a lil' look at Selena's Best Nine photos below:
Like I said, not all of the photos feature The Weeknd, but still, that's got to be a little bit damaging to Bieber, considering Justin and Selena are back on again after they were spotted hanging out (and making out) mere weeks ago.
So, is Justin miffed? Was Selena nervous to share these photos, knowing that they include photos of her and her ex? Did The Weeknd even see this, considering he unfollowed Selena and basically all of her friends and family?
While we don't know for sure how these three are truly feeling, I think it's pretty safe to say that Selena had no qualms about her former flame being featured in her Best Nine. She's been pretty vocal about how her breakup from The Weeknd was amicable and that there were no hard feelings. In an interview with Billboard magazine, she said:
Something that I'm really proud of is that there's such a true friendship [between me and The Weeknd]. I truly have never experienced anything like that in my life. We ended it as best friends, and it was genuinely about encouraging and caring [for each other], and that was pretty remarkable for me.
Bravo for that, Selena. Spoken like a true mature, responsible adult (something that I still have absolutely zero comprehension of, sadly).
And as for The Weeknd, we're not so sure he's *that* hung-up over Selena. I mean, he was spotted walking out of ex-girlfriend Bella Hadid's apartment back in November, where, according to Elle, he spent "several hours" there, and was photographed making a mad dash to his car, trying (and hilariously failing) to be a stealthy ninja. And let me tell you, the photos did NOT disappoint:
So that just leaves us to ponder Justin's feelings for this awkward photo montage. But, given the fact that his and Selena's relationship seems to be on the right track (hello, did you see how he reacted when asked if he was going to propose to Selena?), I think we can be assured that this weird little love triangle are all at that point in life where they simply DGAF. Live and let live. Date Selena and break up with Selena. (But seriously, if you have the chance to date Selena, don't screw it up. I think she's actually heaven-sent.)
In the meantime, I think I'll just patiently wait for Justin or The Weeknd to post their Best Nine and pray that Selena makes her debut in one of their collages so that things can get just *slightly* more awkward. If you feel like joining, you can find me on my couch, phone in hand, with a bucket of popcorn.
Don't judge me. I'm just living the dream and living the drama, folks.