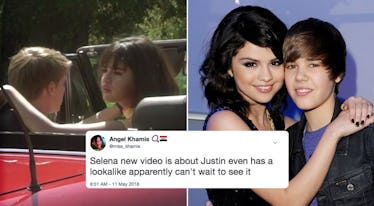 Selena Gomez's New Video Has A Justin Bieber Lookalike & I Have So Many Feelings
Spotify; Kevin Winter/DCNYRE2010 / Contributor/Getty Images; Twitter
Selena Gomez made her triumphant return to pop music on Thursday, May 10 after a torturous seven-month musical dry spell by dropping her new single "Back To You." The second the single dropped, everyone and their mom got to dissecting the lyrics. And even though the song was promoted as a track for the 13 Reasons Why soundtrack, everyone pretty much agrees the it's actually about Gomez's on-and-off love, Justin Bieber. And if you needed more convincing, just wait until you see Selena Gomez's "Back To You" video.
Gomez already dropped a lyric video for "Back To You" with a ton of new footage from the highly anticipated second season of her hit Netflix show, 13 Reasons Why, but she just treated fans to another surprise on Spotify: a behind-the-scenes look at the real music video for the track.
I clicked play so fast, I think I broke my mouse. And what I saw is still giving me heart palpitations.
There is a Bieber lookalike. I repeat: There is a Bieber lookalike!
The first sight of him comes right at the beginning of the video before Gomez even gets the chance to croon the opening lyrics of the song all about being drawn back into a love-hate relationship from years ago. The songstress is seen sitting in a sick red convertible with the top down next to an eerily familiar blonde boy with floppy blond hair.
Moments later, the camera pans around the car to reveal the blond boy's profile and OMG: We've got a swoop.
Any shipper who's been in love with Gomez and Bieber's relationship from the beginning probably got instant flashbacks when they saw this blond hottie sitting next to Gomez. Not only is he rocking Bieber's 2009 side swoop, but Gomez is also rocking a bob cut similar to her Wizards of Waverly Place 2009 era, too.
I mean, check out Gomez and Bieber being super adorable at Dick Clark's New Year's Rockin' Eve With Ryan Seacrest in 2009.
Do Gomez and her video boy give you total 2009 Jelena vibes, or nah?
You can watch the behind-the-scenes vertical video on Spotify and see exactly what I'm talking about by clicking here.
Now, the "Back To You" lyrics take on even more meaning to you Jelena shippers out there, don't they?
[VERSE 1] Took you like a shot / Thought that I could chase you with the cold evening / Let a couple years water down how I'm feeling about you (feeling about you) / And every time we talk / Every single word builds up to this moment / And I gotta convince myself I don't want it, even though I do (even though I do)
This first verse establishes that the song is all about a passionate on-and-off relationship that cools when the lovers are apart, but springs back up more fiercely than ever when they speak or see each other again. Sound familiar? Ummm, yeah. That's exactly what happened last October after Gomez broke up with The Weeknd and ended up right back in Bieber's arms after years apart.
And the second verse perfectly describes Jelena's whirlwind five-month rekindled romance before they tragically called it quits again in early March.
[VERSE 2] I never got it right / Playing and re-playing old conversations / Overthinking every word and I hate it / 'Cause it's not me ('Cause it's not me) / And what's the point of hiding / And everybody knows we got unfinished business / And I'd regret it if I didn't say this isn't what it could be (isn't what it could be)
Let's just say Gomez probably had a particular look in mind when she was casting her video boy for "Back To You," and if you ask me, she nailed it with this lanky, boyish blond. The Jelena feels are so real. I can't.
Now excuse me while I put this video on loop and relive every Jelena moment ever.