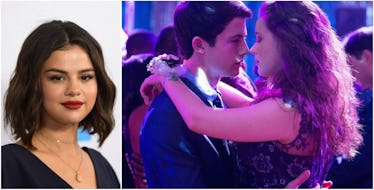 Here Are All The '13 Reasons Why' Clues In Selena Gomez's "Back To You" Music Video
Matt Winkelmeyer/Getty Images Entertainment/Getty Images & Netflix
Leave it to Selena Gomez to subtly fuel fans' 13 Reasons Why speculations by dropping a music video that offers major clues about the upcoming Season 2. The singer's music video for her new single has just arrived, and here are all the 13 Reasons Why clues in Selena Gomez's "Back to You" music video. You might want to take some notes!
There was previously speculation that Gomez's new track was about her on-and-off boyfriend Justin Bieber, and the reasons why definitely seemed valid. While certain lyrics totally point to Bieber ("Everybody knows we got unfinished business"? Come on!), the message clearly fits with Hannah Baker's death haunting everyone remaining at Liberty High. The music video particularly plays up the relationship between Clay and Hannah and how Clay still feels strongly for her. Season 2 hasn't even premiered yet and I'm already weepy about those two after hearing this music alongside their cutest moments.
Before delving into hints about the relationship issues we may see in Season 2, the "Back to You" video firstly has a shoutout to the show's new emphasis on polaroids. Those kind of images played a key role in the teaser announcing Season 2's Netflix release date, floating across the screen and briefly revealing darker moments each character may soon face. Within seconds of the video, a polaroid of Gomez posing in front of a mirror flies by, and "Back 2 you '18" is written across it. In case people weren't already aware that Gomez is an executive producer of the series, stamping her image on this 13 Reasons Why-heavy footage is a clear message to anyone who wasn't in the know.
The video then includes footage of Hannah and Clay, and the early lyric "Let a couple years water down how I'm feeling about you" could definitely relate to Clay's attempts to get over the loss of Hannah. We know that Clay will likely hallucinate about Hannah throughout Season 2, and such specific lyrics playing alongside their footage together emphasize how difficult Clay's grieving process will be. The song says, "When [my heart] heals, it beats for you," which hints that even when Clay is "OK" again, he'll never truly get over Hannah. The video also suggests that if he had the chance, Clay would approach his relationship with Hannah differently, which is a obvious conclusion about him.
Featuring more polaroids and images that resemble cutouts of photos, the video also brings to life moments we previously saw teased in Season 2 photos. The picture of Tony hugging new character Caleb plays out in real time in the video, and given the complicated yet romantic theme of the song, we can assume that Caleb, Tony's boxing coach, is his new love interest. Promos have hinted that a mysterious force is targeting Tony this season, and it seems more likely that his beloved car was destroyed on purpose rather than in an accident. Maybe such danger gets in the way of Tony forming a relationship with Caleb and he regrets not being able to develop a real connection with him.
As for other relationship drama teased in the music video, what looked like Jessica watching an athlete pretend to shoot at her in the season trailer played out as if she was watching her ex Justin approach her. When we last heard about Justin in Season 1, Jessica essentially cut him off from her life after hearing about the role he played in her rape. "Back To You" shows footage of Justin desperately trying to speak to Jessica while Alex, Jessica's other ex, watches in the background. I spy a love triangle!
If you've been following Alex and Jessica's social media updates the past week, you know that their posts have dropped major hints about them reconciling and being close to dating each other again. It would make plenty of sense for Justin to try and win Jess back before Alex intervenes, and the placement of the trio's footage in the video suggests that Jessica regrets the way she handled things with both boys. Does that explain the scene of her sobbing into a pillow?
Ultimately, the video features Clay, Tony, Alex, and Jessica the most, all of whom were genuinely friends with Hannah at some point in her life. While "Back To You" definitely plays up the romance in the characters' lives, its tone of regret ties back to the way each one feels about how they treated Hannah at the end of her life. Could this also mean that these four will be particularly important in the upcoming episodes?
We'll have to see if these clues pan out when Season 2 of 13 Reasons Why debuts on Netflix on Friday, May 18.