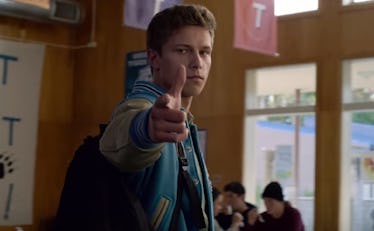 The New '13 Reasons Why' Season 2 Trailer Hints At One Major Thing & Fans Are Worried
Netflix
In case fans weren't already freaked out about what Season 2 of 13 Reasons Why was about, the upcoming season's official trailer has made any worrying even worse. Scenes in the sneak peek only confirm that things are taking an even more dramatic turn in Season 2, but most importantly, there are major clues suggesting that fans' biggest fear will come true. Thanks to the nature of Tyler's last appearance in Season 1, many have long suspected that he's planning a mass shooting, and after watching that trailer, I have to ask: Will 13 Reasons Why have a school shooting in Season 2?
After seeing Tyler buy an arsenal of weapons last season, there isn't much variety in what we can expect to come of this little detail. As an outsider who doesn't seem to mesh with any of the other kids, Tyler even wrote a hit list of victims, suggesting that he would either start a massive, chaotic shootout or target individual people one by one. With that theory in mind, the new trailer features an athlete pretending to shoot a gun, presumingly in Jessica's direction, and Clay eventually learning how to shoot a gun. If you look closely at the flash of different images at the end of the trailer, you can even spot Tyler walking with a huge black bag, which could carry his guns, as a Reddit user pointed out.
The role of guns in the second season isn't the only focus of the trailer, but the signs that they'll feature guns significantly are clearly there. While Tyler possibly lashing out through a shooting and Clay seemingly learning to shoot for self-defense flows with the 13 Reasons Why storyline, these potential plot points also tackle what has unfortunately become a more relevant topic for today's teens. Premiering only months after the Stoneman Douglas shooting, Season 2 has another opportunity to cover an often taboo topic in an informative way — if handled well.
As for whether or not an actual school shooting will happen, fans on Reddit feel that it's pretty likely to happen. User MrAtlantic writes about the possibility:
They seem to really be pushing a potential shooter theme so I am curious as to how that will play out. My initial hunch was that a big twist would be it would be clay who actually kills someone, but judging by the scenes in the trailer I doubt they would basically reveal it like that so now idk.
The trailer shows Clay with a gun in his hands while hallucinating about Hannah, so I would wager that he'll actually struggle with the idea of more violence coming into his life in the aftermath of her death. Perhaps Clay suddenly showing up for target practice is simply stress relief, but with today's context about gun laws, even Clay just searching for a way to relax could be controversial with viewers.
On the other hand, fans also seem split about the show potentially featuring a school shooting. One Twitter user even reached out to David Hogg, one of the Stoneman Douglas students speaking out on gun control, about the possibility of the show taking a step too far in its depiction of such an event.
Other viewers understandably aren't thrilled about the idea of a shooting on the show, but some think that at this point, the plot twist is unavoidable. You can't show a character buying a load of guns and not follow through with his actions, right?
The trailer doesn't include any footage that is noticeably linked to a school shooting, but the show has to keep up some elements of suspense. No matter what happens regarding Tyler's guns, the result will definitely inspire intense conversation among 13 Reasons Why fans.
Season 2 of 13 Reasons Why debuts on Netflix on Friday, May 18.