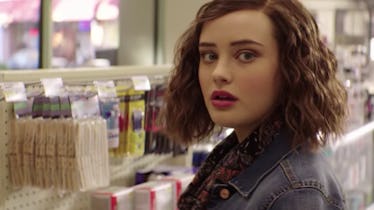 '13 Reasons Why' Fans Have One Question About This Season 2 Photo Of Hannah
Netflix
Based on all of its Season 2 teasers, I can only imagine that none of the characters in 13 Reasons Why will face easy circumstances this year. So far, the show's trailers and photos have hinted at a school shooting, a destroyed car, another rape, and so many polaroids. The show has promised so many crazy storylines that I almost forgot that Hannah Baker was the key focus in Season 1, but a new photo of a Season 2 scene hints that we'll see plenty of her in these upcoming stories. As the photo shows the deceased Hannah seemingly in a conversation with Clay, is Hannah a ghost in 13 Reasons Why?
The new still of Hannah and Clay together shows the two in Clay's room, but their interaction looks far from cozy. Clay almost looks confrontational, glaring at Hannah, whose face appears quite serene. Clay's anger in the moment definitely suggests that he keeps envisioning Hannah despite his desire not to revisit her. Seeing as 13 Reasons Why has yet to add "horror" to its own genre, I doubt that Hannah is necessarily a ghost in the moment, but given all that Clay has experienced, having hallucinations of Hannah is almost inevitable.
Whether she's popping up as a ghost or as a figment of Clay's imagination, it seems that Hannah will still be quite the polarizing figure in Season 2. After all, Liberty High is understandably in shambles after her death, and while everyone else may not literally see Hannah as Clay does, the Season 2 trailer has confirmed that they're all still struggling with the tense atmosphere her suicide has caused.
Actress Katherine Langford has remained tight-lipped about Hannah's role in the new season, but fans have guessed that she won't narrate as she did in Season 1. Speaking to Entertainment Weekly last December, Langford teased that we can expect a "different Hannah" in upcoming episodes, saying:
It's a different story than season 1 and I think that's a good thing. This season we get to explore a lot more of the other characters and their journeys, which I'm excited about. As sad as it is, there is life after Hannah, and this season we get to see the effects it had on the people around her a lot more. You see a very different Hannah in season 2. I would prepare fans not to expect the Hannah from season 1 for a multitude of reasons.
While there's always the possibility of Season 2 including flashbacks to when Hannah was alive, it seems that the majority of her scenes will be post-mortem and opposite Clay. The trailer shows her questioning him about a polaroid that reads, "Hannah wasn't the only one," and asking what he'll do about it. The footage later teases Clay seemingly pointing a gun at a teary Hannah, but earlier scenes essentially confirm that Clay is on a mission to avenge her death.
Seeing how insane this season promises to be, it could be a fruitless quest, but perhaps that's why Hannah continuously haunts Clay. Could his inability to accept her death and move on contribute to his hallucinations? As Reddit user Kyle203 points out, if Clay is the only one to see Hannah, it just emphasizes how obsessed he is with the loss of her:
I wonder if it's only Clay that can hear and see Hannah? If so, this is already sad tbh. Clay can't let her go, knowing what happened, so she's just always in his conscience. This season is already looking different, but I think it'll be just as special as the first.
Other fans have theorized that Hannah's mother Olivia will also see her in visions, but as we're all different with our parents than we are with friends, this idea could entail Hannah guiding Clay and Olivia in very different, potentially dangerous directions. We have to wait a little longer to see if Hannah visits others, but fans are dying for more clarification about Hannah's status in Season 2.
Regardless of the nature of Hannah's new appearances, I'm ready to weep over her encounters with Clay. Season 2 of 13 Reasons Why debuts on Netflix on Friday, May 18.