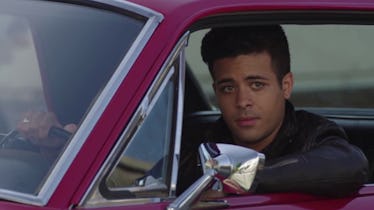 These New '13 Reasons Why' Photos Reveal A Heartbreaking Scene With Tony & I'm Not Ready
Netflix
If I had to take a wild guess, it doesn't look like anyone in Season 2 of 13 Reasons Why is being dealt an easy set of cards this time around. When Netflix released a teaser trailer announcing May 18 as the season's launch date, the promo footage dropped ominous-looking hints at what the Liberty High kids will now face. Based on what new Season 2 photos have revealed, fans may have particular reason to fear for Tony Padilla in upcoming episodes. I hate to have to ask this, but what happens to Tony in 13 Reasons Why Season 2?
In Season 1 of 13 Reasons Why, Tony sticks out as one of the only Liberty High students not to have teased or bullied Hannah in some way. As a result, he's not listed as one of the reasons for Hannah's death on her cassette tapes. Although they were friends, Tony claims that he just couldn't deal with Hannah and her drama on the day she killed herself. When she arrives at his house to deliver her tapes explaining why she's committing suicide, he fails to answer his door, letting Hannah walk off to her death. So, while he isn't an official reason for Hannah's suicide, Tony has still experienced his share of guilt for the loss of his friend. At the season's end, he gives Hannah's parents copies of her tapes to help them avenge for her death.
Clues of Tony getting off to a bumpy start in Season 2 first appeared in Netflix's teaser video, when one of those mysterious flying polaroids revealed his smashed car and injured face. Now that Netflix has released photo stills from upcoming 13 Reasons Why episodes, fans have a clearer insight into what Tony will soon face. In one of the four photos, he appears next to his essentially destroyed car, weeping in the arms of new character Caleb, who is reportedly Tony's boxing coach. It's only been a few days since the teaser trailer launched, but whatever causes the wrecking of his beloved car seems to be Tony's emotional highlight this season.
Although we can't see his face in photo, the all-telling polaroid in the trailer also suggests that Tony is injured in his car crash (or even another event unrelated to the wreck?). As the car's main damage seems to be the smashed windshield, it would probably make a little more sense that someone purposely harmed the car without Tony's knowledge. Fans are also curious about why Tony has a cassette tape in his hand in the Season 2 trailer, especially seeing as he seemingly gave all the tapes in his possession to the Bakers. Are you sure we have to wait until May 18 for answers to some of these questions?
As Tony wasn't that big of a character in Jay Asher's original book, the character's journey could veer in so many different directions that the uncertainty is overwhelming. In an April 2017 interview with Entertainment Weekly, actor Christian Navarro said of Tony's future path:
Katherine Langford and I would have coffee and we would just talk and talk and talk about what [Tony and Hannah's relationship] could have been. So we have secrets, none that I choose to reveal right now, but hopefully we get to explore it in a second season. I think there's a lot more to the story. I think that he's culpable in a lot of ways for holding onto these tapes, so he's got to pay some sort of consequence in that regard.
Given this insane focus on the destruction of Tony's car, I think it's safe to say that Tony's "consequences" will arrive in full force in Season 2. Fingers crossed that Tony won't be in too much danger in the next few episodes. Fans on Twitter are already hoping that he isn't harmed any time soon:
Season 2 of 13 Reasons Why debuts on Netflix on Friday, May 18.