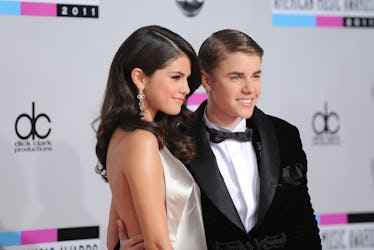 Selena Gomez & Justin Bieber Went On A Pre-Valentine's Getaway & It's Perfect
Jason Merritt/TERM/Getty Images Entertainment/Getty Images
There are all kinds of adorable gifts you can get your partner for Valentine's Day, but a whimsical getaway always takes the cake. I mean, really, is there any better way to say "I love you" than spending every waking moment with your partner in a beautiful location far away from any distractions? Selena Gomez and Justin Bieber seem to agree. Selena Gomez and Justin Bieber's pre-Valentine's Day getaway shows that they're just too cute to handle.
On Saturday, Feb. 11, Selena Gomez and Justin Bieber — aka Jelena — traveled to Laguna Beach and stayed at the Montage, a palatial hotel next to the beach, according to People. The publication also reported that the couple was spotted hanging by the pool and snuggled up with each other while enjoying the scenic waves. What a way to spend the days leading up to Valentine's Day! Good call, guys.
Jelena's adventures are always reminiscent of that one romance from way, way back. Y'know, when the two of you just hung out and enjoyed each other's company (aside from the sad breakup, of course). Their extensive history, coupled with their creative dates and similar ways of keeping their romance alive, always let us know that they're obviously in it to win it.
But on Sunday, Gomez went on her own private escapade. She reportedly visited Disneyland, where fans snapped some really fun photos of themselves with the "Bad Liar" singer.
Jelena's vacation is the most recent proof we've received to declare just how much the singers can't get enough of each other. Just days ago, on Feb. 8, Jelena was spotted mid-make out session, following a Rex Orange County concert in Los Angeles, California.
An eyewitness to the encounter told Hollywood Life that the couple "couldn't get close enough." They said,
Selena and Justin were backstage after the show talking to Alex, they were both so warm and humble. Justin was doing most of the talking, Selena was more quiet. She was holding Justin's hand and smiling a lot. When they were leaving Justin put his arm around Selena and she had her arm around him, they were practically wrapped around each other, like they couldn't get close enough.
Awww, how sweet — well, to some people, that is.
Not everyone has been here for Jelena's reunion.
Since Jelena's reunion, dated as far back as November 2017 when pictures of the couple kissing surfaced online, not everyone has been too thrilled about their reconciliation. In addition to Gomez's mom saying she's "not happy" about their reunion, fans of the singers have not been totally into it.
On the other hand, some people are thrilled that Jelena has reconciled.
Regardless of the criticisms, Gomez doesn't seem to want to let Bieber go any time soon. An insider previously told US Weekly,
... She [Selena] can't deny that she still loves Justin. He had such a big piece of her heart and was such a huge part of her life for so long. She can't just let him go.
Even a friend of Bieber's admitted that, while the pop star understood Gomez's family doesn't want them together, he was going to prove how much he changed. The source told Elle Magazine,
Justin is aware Selena's family is not thrilled they are hanging out. They think he caused Selena a lot of grief. Justin hopes he can prove to them that he has changed.
And it looks like the "What Do You Mean?" singer is off to a good start. When speaking about Jelena's rekindled love, a source told People that "things could work out great this time." The insider said,
Their relationship is very special. They have both changed, their lives are so different and it really seems things could work out great this time. They have both hugely matured. Justin is very supportive of Selena feeling her best.
In addition to their declarations of love for one another and steamy displays of PDA, a sweet getaway to the beach for the one of the most romantic days of the year makes Jelena's future seem so fulfilling. I can't wait to see what the couple does for Gomez's birthday.