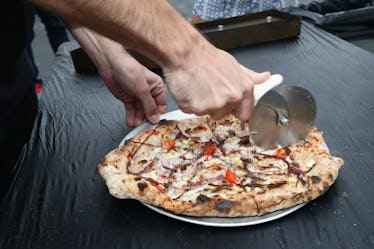 Here's How To Order In On Black Friday, If You Can't Stand Looking At Leftovers
Cindy Ord/Getty Images Entertainment/Getty Images
Thanksgiving has finally arrived — one of the few days per year where eating your body weight in home-cooked food is socially acceptable (and encouraged). Typically everyone looks forward to the Thanksgiving leftovers, too. But should you find that your family managed to clean house the entire turkey dinner, Seamless is here to help you out. While Seamless doesn't have a specific Black Friday promo, everyday Seamless promo codes can still help ease the pain, because we know you're probably rendered immobile due to a food coma.
So what are these oh-so-necessary promo codes, you ask? In the holiday spirit of giving, you can get $7 off by referring a friend — even better, they get $7 off too, so what a great early holiday gift for your bestie. (Parent company GrubHub does it too, in case you're torn between apps.) You'll have to get a personalized code from the website to send to your friends for the credit. Or, if you've never used the service before, Seamless will give you $7 off your first take-out or delivery order, per RetailMeNot. You can also opt to get $5 off your first 3 orders, depending on what you think is the better value. (Disclaimer: Discount codes from outside sites are not always 100 percent reliable, so use with caution.)
Unless you're a die hard Black Friday shopper, it's extremely likely that you'll be couch potato-ing all day. Which makes a Seamless promo code seriously perfect. Even if you are venturing into the wilderness that is the mall on the massive shopping day, after a long haul going store-to-store I'm sure the last thing you'll want to do is cook a meal. So these coupon codes are good for every type of Black Friday personality.
Even better, parent company Grubhub is also offering some amazing promos for foodies nationwide. If you're looking for a holiday gift that anyone can enjoy, why not go for a Grubhub e-gift card? I mean who wouldn't be excited to get money for food? Nobody, that's who.
And the food delivery provider is giving customers extra incentive to purchase their e-gift cards. Because for every $100 you spend on Grubhub e-gift cards, you're rewarded with a $20 Grubhub gift card for yourself. So you're giving to get — a win-win for all!
So if you're staying put at home, Grubhub and Seamless have got you covered. And if you are planning on venturing out to score some amazing finds on Black Friday, we also have some suggestions for you.
If you're looking for seriously discounted electronics, Best Buy and Apple have got you covered. They're both opening up super early on Friday, so set your alarm clocks, people. Apple stores will be opening up at 8 a.m., and while the iPhone X definitely won't be on sale (sob), you can score an iPhone 8 for $699 and an iPhone 8 Plus for $799.
As for Best Buy, their stores will also be opening op at 8 a.m. and have a much wider variety of deals to choose from. You can score a Roku for $99.99 ($50 off!), save $200 on a new iPhone, or $30 off Keurig coffee makers.
If you're more into fashion, Zara is offering up some great discounts for Black Friday. The retailer is slashing their prices from 20 to 30 percent, both in stores starting on Black Friday and online on Cyber Monday. And if you're all about the #FitLife, there are plenty of discounts out there for all of your fitness essentials — everything from S'well bottles to an amazing new pair of leggings.
But whatever your plans are for Black Friday, be sure to give yourself a little time to relax and recuperate after what's sure to be a very busy Thursday. Although seeing family is always inherently stressful no matter what, the day after Thanksgiving is the day anyone can treat themselves. So whether that means splurging on Black Friday deals, or lounging around the house and ordering delivery, just make sure that you're living your best life.