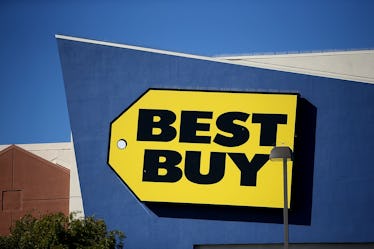 Best Buy Black Friday 2017 Sales That'll Get You Out Of Bed Early
Justin Sullivan/Getty Images News/Getty Images
Two things are for certain: November is packed with activity, and a nosy relative will go full-on Inspector Gadget during Thanksgiving dinner. The eleventh month includes the busiest travel day of the year, the biggest reading day of the year, and of course, the busiest shopping day of the year. For those looking to score a few deals, Best Buy Black Friday 2017 sales are the offers you can't refuse.
Set the alarm and head to your nearest location at 8 a.m. — an early hour, but manageable in the grand scheme of things (considering some places are going to open their doors while it's still dark). Not only is there something for everyone at Best Buy — the mecca of tech toys, movies, and other fun gadgets and gizmos — but the savings are just as tempting as that third scoop of mashed potatoes. You can join other shoppers post Turkey Day, or enjoy free shipping on all items online. If that's not a win-win situation, I'm not sure what is.
Not sure where to start? That's totally understandable — holidays are an overwhelming situation. Fortunately, Best Buy has you covered. Let's break it down and see what offers you need to cash in on this Black Friday.
For those who can't do without a good Netflix binge
Shoppers can save $15 on an Amazon Fire Stick and score one for friends who need a day in bed catching up on Netflix shows. With the help of the device ($24.99), your favorite streaming services are available with the click of a button. Roku is $50 off and available for $99.99, and there are also incredible deals on a variety of TVs. It sounds as if a lazy day is arriving in the near future, so embrace the coziness, my friends.
For those who love to cook
Give the illusion that you channel Julia Child every time you step foot in the kitchen. Shoppers can enjoy 20 percent off Kitchen Aid appliances and $30 off Keurig coffee makers, because no matter what time of year it is, a cup of coffee in the morning is an absolute necessity. With all of these fancy items — Keurigs, Ninjas, slow cookers, etc. etc. — you're going to want to cook 24/7 (except on Black Friday because you're probably exhausted from Thanksgiving prep).
For those who are addicted to Apple
Let's face it, no holiday is complete without a fancy new Apple device. If the iPhone 8 was out of reach in terms of price, you have the option to save $200 on the smartphone with Best Buy's deals. There are also plenty of other savings on devices such as the Apple Watch and iPads, so your tech-loving hearts will be fulfilled no matter what route you choose.
For the gammers who need to win
If your S.O. can't step away from his Xbox or PS4, you'll be pleased to know that there are deals not only on the devices ($39.99 controllers for each game set) but there are also savings to be had on games. Want to get "Need For Speed Payback"? Looking for a copy of "Just Dance 2018" (OK, maybe that's a purchase for you)? Look no further.
No matter what you're searching for this Black Friday, head to the Best Buy site and categorize your searches — for appliances, cell phones, movies, toys, etc. to see what needs to go on your list. Happy shopping!
Check out the entire Gen Why series and other videos on Facebook and the Bustle app across Apple TV, Roku, and Amazon Fire TV.