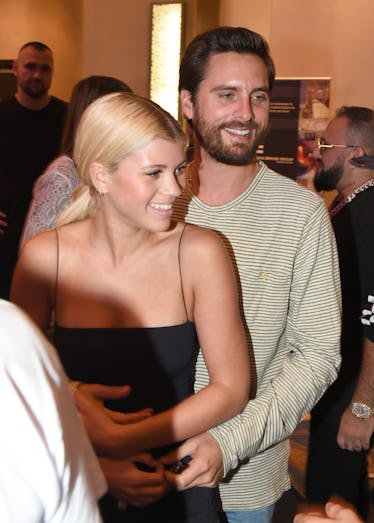 Scott Disick Broke His Silence On Those Rumors He & Sofia Richie Broke Up
Romain Maurice/Getty Images Entertainment/Getty Images
I feel like I'm dating Scott Disick. How does this always happen to me? The father of three and boyfriend to 19-year-old Sofia Richie has been through the ringer this week as cheating allegations surfaced after a night of partying in Wyoming. Disick attended Kanye West's album release party where he was reportedly spotted with his arms wrapped around a woman who was not Richie. Elite Daily reached out to Disick and Richie's teams for comment, but did not hear back by the time of publication. After that, media outlets began announcing his and Richie's relationship was over thanks to his behavior. However — not true. And actually, Scott Disick's response to the Sofia Richie breakup rumors is actually pretty funny. (Say what you want, but that guy's got spunk.)
Fans originally heard Richie called things off after Disick reportedly canoodled with the mystery woman and walked around the album release party telling people he was "single." One source claimed her father, Lionel Richie, stepped in, too. The source told E! News,
Sofia broke up with Scott after the pictures and rumors of his behavior in Wyoming were floating around. She couldn't take it anymore. Scott has been off the rails recently and is not in a good place. He goes in waves of partying really hard and then will have his good days and it's just very toxic behavior. It's very up and down … Her dad got to her and was a major influence. He told her enough is enough and she deserves better than this. He told her to come home and she did.
Elite Daily reached out to Disick and Richie's teams about reports of Scott's "toxic" behavior, but did not hear back by the time of publication.
Anyway, just 24 hours later, TMZ took it all back. A source told the gossip outlet the mystery woman was "just a pal," and even though Disick went around telling people he was "single," that was "just the booze talking."
K.
The point is: these two are actually still going strong. In fact, Disick says he never even heard they broke up in the first place. Ha. Ha. On Monday, June 4, Disick shared a screenshot of TMZ's story with the headline "Sofia Richie and Scott Disick Still Together." He captioned the image: "We had no idea we even broke up but thanks for thinking of us."
Ah yes, classic Disick.
He also posted a paparazzi picture to his feed of him and Richie leaving his favorite restaurant, Nobu. Maybe it was to prove they're still doing coupley things like getting dinner together (or maybe it's just because he's obsessed with Nobu), but whatever the reason — message received, Scott.
The truth is, before the breakup rumor, Disick and Richie went on a seemingly super relaxing trip to St. Barts for the reality TV star's 35th birthday. Richie, Disick, and his three children — Mason, 8, Penelope, 5, and Reign, 3 — enjoyed fun in the sun and days at the beach. Richie posted a series of bikini pics on her Instagram and Disick shared a lot of family shots. Some reports even claim Disick's ex and baby's mama, Kourtney Kardashian, feels pretty good about Richie.
A source told People magazine Kardashian "trusts" Richie and believes she's helpful with the kids. The insider claimed, "The kids are allowed to spend time with her. Sofia likes having them and helps Scott. So far, the kids are giving Kourtney good reports about Sofia." The source also said Richie is "helping Scott be a better, healthier person" and that she's shown she's seriously in this relationship for the long haul. "Sofia has shown over and over again that she is willing to stay with Scott even when things are not great — but Scott is doing well lately," said the source. Elite Daily reached out to Kardashian about the reports, but did not hear back by the time of publication.
For now, all is well that ends well in the tabloids, but I'm staying tuned for the next plot twist.
Check out the entire Gen Why series and other videos on Facebook and the Bustle app across Apple TV, Roku, and Amazon Fire TV.