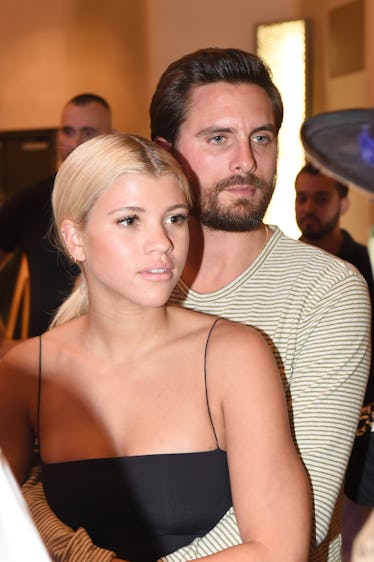 Scott Disick & Sofia Richie's Relationship Might Be In Trouble Based On This Major Clue
Romain Maurice/Getty Images Entertainment/Getty Images
I am uneasy AF over here. Scott Disick unfollowed Sofia Richie on Instagram, and for some reason, it's making me super nervous. What is happening? Scott, where are you? Sofia, are you OK? I don't like sudden change, people! Disick appears to have unfollowed his recent girlfriend on the social media platform sometime in the last day or two, and while I have no idea what it means, I can only assume their relationship could be in trouble. (That, or it's some sort of new PR stunt, which would also make a lot of sense. Props.)
According to Cosmopolitan, there are a lot of changes happening in the Kardashian Instagram world. For example, Disick's ex and babies' mama, Kourtney Kardashian, appears to have recently unfollowed her boyfriend, Younes Bendjima, too. And, she briefly disabled her own account. (WTF? WTF? WTF?) Apparently, Bendjima also made his Instagram private for a short time, though both his and Kourt's accounts are back up and running at this time. HOW-EV-ER, if you do a quick search under both of their followers, you'll see the 24-year-old model is no longer "keeping up" with the 38-year-old mother of three, though she is following him again.
It's a lot. It's a lot, a lot. Everyone breathe and stick with me.
All of this jumbling around drew attention to Disick and Richie's accounts, leading fans to discover Disick is actually not following his own girlfriend. Admittedly, I don't keep tabs on who Disick does and does not follow these days, but one would assume his literal partner would be on the list.
If you head over to Disick's Instagram and try to search who he is following, Richie is no where to be found.
Of course, you better believe Twitter noticed.
Fans are invested, though, like me, they can't really tell why.
Fans have been skeptical about Disick and Richie's relationship since the beginning, with their massive 15-year age difference as the main source of conversation. Richie is only 19 years old, making her younger than Kylie Jenner, (who is technically not related to Disick, but is basically like his little sister). Plus, Richie's barely a decade older than Disick's oldest son, Mason. Facts are just facts.
Fans were first alarmed when Richie and Disick were spotted hanging out at the 2017 Cannes Festival, though Richie assured the public they were just friends at the time. She initially tweeted,
Just so everyone can get their panties out of their asses, Scott and I are just homies #relax
Of course, a few months later, that famous video of Richie and Disick eating a "Congratulations!" cake started circulating, proving these two are way more than "just homies."
Much more recently, Richie explained her attraction to the reality TV star and infamous party-boy to E! News. She said,
I just think he's the male version of me. Our humor. We have very similar humor.
She also shared a picture cuddling her man on Valentine's Day. While Disick is less likely to show outward displays of affection, he has been known to post a moody picture of himself and Richie before, too.
Which leads me back to my original question — WHY ISN'T HE FOLLOWING HER?
There's a lot to be said for the Kardashian/Jenner clan, and fans can sort of understand they might be actual human beings going through the ups and downs of life. However, they just happen to do all of it on TV which makes the public believe it has a right to ALL OF THE DETAILS ALL OF THE TIME.
Scott, Sofia, Kourt, Younes, anybody. Let us know what's going on when you can. In the meantime, I'll be sitting here just, like, low-key Instagram stalking you.
Check out the entire Gen Why series and other videos on Facebook and the Bustle app across Apple TV, Roku, and Amazon Fire TV.