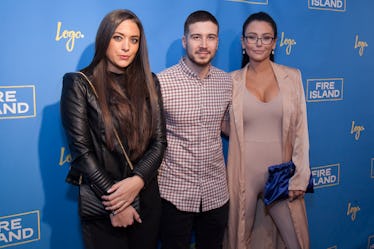 Here's How Sammi Sweetheart Feels Now About Skipping The 'Jersey Shore' Reboot
Santiago Felipe/Getty Images Entertainment/Getty Images
As Ronnie Ortiz-Magro continues to implode on this season of Jersey Shore Family Vacation, I can only imagine that Sammi "Sweetheart" Giancola is sitting back and enjoying the sh*t show. Sammi is the only one of the roommates who didn't return for the Jersey Shore reboot, so many (including her Jersey Shore pals) thought that she'd have major FOMO by skipping the trip down to Miami. But as it turns out, Sammi Sweetheart is "happy" she skipped Jersey Shore Family Vacation, and after what we've seen from Ronnie this season, I honestly can't blame her. Skipping out on all that drama definitely seems worth it for the 31-year-old reality star, especially now that she's in a stable (cough, Ron, cough) relationship.
In an exclusive interview with Us Weekly, an insider close to Sammi said that going back to Miami would have been "toxic." She and Ronnie dated on and off since Jersey Shore first began in 2009, and there were plenty of intense moments that happened between the couple before things ended for good in 2014. Ronnie may be older this time around, but he's clearly not any wiser, and now that Sammi has moved on with businessman Christian Biscardi, there's no need for her to get dragged down with his sinking ship.
The insider told Us Weekly that after watching everything that's happened over the past few weeks, Sammi is apparently very happy that she decided to pass on the family vacation:
Sammi isn't regretting her decision to go back on the show at all. She knew if she went back on it would be toxic. Just look at how everything is unfolding with Ronnie. She would have been thrown into this cheating drama for no reason just being for attached to the show.
As sad as it is to say, this is definitely true. Even if Sammi wasn't involved at all, you know she'd somehow get drawn into Ronnie's madness. That's just how reality TV works.
Somehow, even though Sammi isn't in Miami, she's still getting pulled into the show's drama. In Episode 5, called "About Last Night" (can we talk about how fitting these titles are?), Ronnie admits to Snooki that he's still in love with Sammi — even though he has a very pregnant girlfriend at home. After some prodding, Ronnie drunkenly reveals that he misses the security he had with Sammi and says that he doesn't know if he'll ever find that again with anyone, including his then-girlfriend Jen (Ronnie and Jen have since broken up). I have to imagine that Sammi — like the rest of America — gasped when she heard this and thought, "What security?" The two were constantly at each other's throats, and I don't know about you, but that's not my idea of relationship bliss.
Luckily for Sammi, it seems like she has actually found security with Christian, and I'm so happy for her. Said the insider:
She's so happy that she didn't do the show now. She's happy with her life and has moved on with her boyfriend. He's the one. They have a great life together and have their own business. She doesn't regret not going back on for a second.
Yaaas, girl. Get out of that toxic relationship and get yourself a man who actually values you — and who doesn't throw things at your head.
In April, Sammi echoed this sentiment when she explained that she skipped Jersey Shore Family Vacation to "avoid potentially toxic situations." Sammi, can you see into the future? "I've decided to focus on me, my future, and what truly makes me happy," she added.
Sammi's post didn't rule out the possibility of an appearance on Jersey Shore Family Vacation Season 2, so maybe if Ron can't make it, Sammi will step in to replace him. Sammi and Deena are super close, so hopefully the meatball will be able to convince Sammi Sweetheart to return to the shore house.