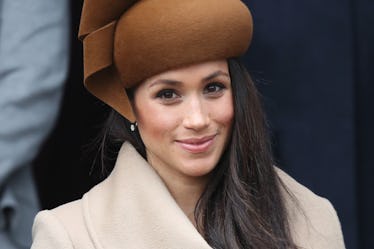 Meghan Markle's Sister Won't Stop Leaking Family Drama Because "Freedom Of Speech" & UGH
Chris Jackson/Getty Images Entertainment/Getty Images
OK, OK, OK. Here we are. We're just three days away from Meghan Markle and Prince Harry's royal wedding and sh*t is getting wild with her family. The public has seen reports suggesting Markle and her family have a strained relationship. Plus, fans also know her father suffered a heart attack just a few days before the big "I Dos." Now, Meghan's half-sister, Samantha Markle, is speaking to the press (again) about her sister. She's also covering topics like freedom of speech and her supposed wedding gift to the happy couple, but Samantha's actual words are bizarre. Samantha Markle's video about "freedom of speech" is intense and I don't know what to make of it. Elite Daily reached out to Kensington Palace for comment on Samantha's remarks but did not hear back by the time of publication.
The story is that Meghan's father, Thomas Markle, was married once before he met Meghan's mom. He had two children with his first wife, Thomas Markle Jr. and Samantha Markle. Both have gone on the record slamming Meghan and her integrity and have openly admitted their relationship has been rocky for years. Samantha Markle has been particularly inconsistent with her opinion about the wedding and TMZ caught up with her for her latest rant.
In a new video, reporters seemed to FaceTime with Samantha, telling her Meghan reportedly "does not want you [Samantha] speaking, especially as she is about to get married."
Well, Samantha had some thoughts about that. Her commentary is hard to keep up with, but here is a verbatim transcription of what she had to say:
If it's about my life or my father's, there's something in this country known as "freedom of speech." She doesn't have a copyright on that and she's not gonna tell me that I can't speak about my own life or my father's where it's a matter of public... of self-defense, because the media is disparaging us.
Then, weirdly, Samantha made it political? Or patriotic? Or... I don't know what you call it. She continued,
I'm not gonna take it. She's not qualified to suggest that I don't under any law in this country. So, this is not Great Britain. I am a United States citizen. And, that's all there is to it. She's way out of her league to tell me that I can't speak. I'm not saying anything about her, but if I'm talking about my life or my father's, she has to respect it.
Samantha credited her strained relationship with Meghan to the media, but added she doesn't know her half-sister to have a relationship with anyone in the family. Samantha explained, "Meg and I do not have a relationship now, the last year. I think it has been strained because of what tabloids have said. But, Meg doesn't have a relationship that I've seen with anyone in the family."
Despite the clearly hurt feelings, Samantha says she has bought Meghan and Harry something "sentimental" as a wedding gift. She said her preference is to give it to Meghan and person, but if she isn't invited to the wedding (Girl, you ain't) then she'll mail it.
According to reports, Markle's father was initially intended to walk his daughter down the aisle, but now may miss the wedding after suffering his heart attack and being outed for planning staged photographs with paparazzi. He told TMZ he "meant no harm" in staging the photos and had a reason for the pictures beyond money. Elite Daily reached out to Kensington Palace for comment on the report but did not hear back by the time of publication.
I don't know about you guys, but I'm exhausted.
Meghan, wherever you are, I hope you are zen AF. The rest of the planet has your back, Queen. (Or, uh, Princess? Duchess? Highness?)
Check out the entire Gen Why series and other videos on Facebook and the Bustle app across Apple TV, Roku, and Amazon Fire TV.