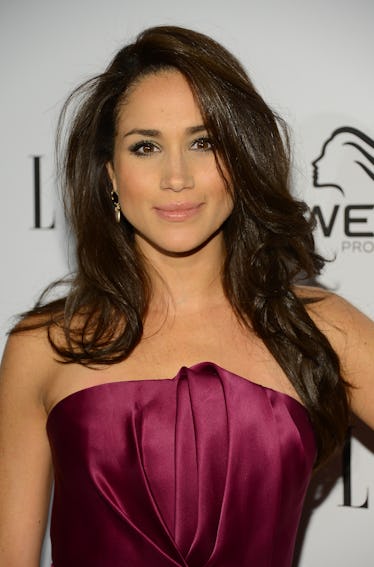 Meghan Markle's Family Drama Can Get Confusing, So Here's What You Should Know
Michael Kovac/Getty Images Entertainment/Getty Images
If you've been following any of the royal wedding news, (and let's be real, who hasn't?), you might have caught wind Meghan Markle's family isn't very traditional. It's not a big deal, and families come in all varieties, but because Markle is marrying into one of the most famous families, fans have started paying attention. The truth is Meghan Markle's family drama can get confusing, and the wedding has only made things more complicated. Luckily, I spend my literal work day on the internet doing research on these exact types of things, and think I have it all worked out.
In just T-minus eight days, Markle is going to marry Prince Harry, causing her entire family tree to change like whoa. She'll officially transform from a single American Actress into married British royalty, and be able to call the Queen of England "Grandma." (Just kidding. No one can call the Queen "Grandma," silly. She's The Actual Queen.)
ANYWAY. Here's a break down of what's up with Markle's family heading into the big day.
Her parents are divorced.
Markle's mother, Doria Ragland, and her father, Thomas Markle, married in 1981 and got divorced when Markle was 6 years old. According to ABC News, her mother works in Los Angeles as a social worker and yoga instructor and remains very close with her daughter. Some people even suspected she would be the one to walk Meghan down the aisle, though it was eventually confirmed her father has that honor.
Thomas is currently retired in Rosarito, Mexico, where he reportedly lives a quiet life. In a video obtained by The Sun, Thomas made the following comment on his daughter's wedding:
I think it's wonderful. I'm very delighted. I think they're [a] very good match. I'm very happy for them, Meghan and Harry. I love my daughter very much — Harry's a gentleman.
Royal.uk posted an official statement by Prince Harry's press secretary which explained,
The first thing I would like to share is that Prince Harry and Ms. Markle are very much looking forward to welcoming Ms. Markle's parents to Windsor for the wedding ... Both of the bride's parents will have important roles in the wedding. On the morning of the wedding, Ms. Ragland will travel with Ms. Markle by car to Windsor Castle. Mr. Markle will walk his daughter down the aisle of St George's Chapel. Ms. Markle is delighted to have her parents by her side on this important and happy occasion.
So there.
Her half-brother, Thomas Markle Jr., may have tried to sabotage the wedding.
Stick with me here, folks.
Thomas Markle Jr. and Meghan Markle share the same father. He was 14 when Markle was born and says he spent a lot of time with her.
In Touch reports Thomas Jr. hand-wrote Prince Harry a letter telling him "it's not too late" if he wanted to pull the plug on his engagement. In the letter, Thomas Jr. reportedly wrote, "As more time passes to your royal wedding, it became very clear that this is the biggest mistake in royal wedding history. Meghan Markle is obviously not the right woman for you." Elite Daily reached out to Meghan Markle's team for comment on the report but did not hear back by the time of publication.
He also reportedly called Meghan a "jaded, shallow, conceited woman that will make a joke of you and the royal family heritage."
Oof.
Thomas Markle Jr. is reportedly not invited to the wedding.
Her half-sister, Samantha Grant, is reportedly writing a tell-all memoir.
Talk about drama. Grant is Thomas Markle Jr.'s sister and shares her father with Meghan, too. Grant has regularly gone on the record about Meghan, and once spoke out against a comment Prince Harry made about their family.
During a radio interview, Harry talked about what it was like to be with his bride-to-be on Christmas. He said,
We had great fun staying with my brother and sister-in-law and running round with the kids. Christmas was fantastic ... She's done an absolutely amazing job, she's getting in there and it's the family that I suppose she's never had.
Grant responded with a tweet that reportedly said, "She has a large family. She always did. Our dad is amazing and completely self-sacrificing. We made it so that she had two houses. How fun it was!"
Though she has since deleted her Twitter account, People reports Grant posted other tweets pointing towards her book. One tweet said:
Actually, she has a large family who were always there with her and for her. Our household was very normal and when dad and Doria divorced, we all made it so it was like she had two houses. No one was estranged, she was just too busy. Read my book complete with facts and photos.
In a very weird, clearly trying-too-hard interview with Good Morning Britain, Samantha sang a totally different tune and showered her half-sister with praises.
She is also reportedly not invited to her wedding.
Markle's cousin Tyler Dooley gave one of the most awkward interviews of all time.
Dooley is the son of Thomas Markle Jr. and his ex-wife, Tracy Dooley. Tracy and Tyler also spoke with Good Morning Britain about the royal wedding and had some comments to make about not receiving an invitation.
Despite openly admitting they haven't been in communication with Meghan for years, they did the interview anyway.
When talking about the odds of getting an invitation, Tyler bumbled,
At this point, it's just, who knows? ... At this point, ya know, again, this all goes back to Meghan. I mean, ultimately, it's her day. It's her happiness... Again, we've been here from the very beginning, I mean, her whole life. Just, always rooting her on and supporting her.
Reign it in, dude.
His mom added,
Chances are ... I don't think we're going to get the invitations. And, that's just fine. We're OK with that. But, we're supporting her on and having a good time. So proud of her.
The good news is, it sounds like Prince Harry's family has nothing but open arms for Meghan. From this side of the internet, it seems she and Prince Harry are totally ecstatic planning their wedding day and aren't bothered by all of the ~*noise*~ out there.
If Meghan's family really wants to be a part of it, they can surely tune into any major network on Saturday, May 19, to catch all the fun. They can come over to my place if they want. I'll have Doritos.