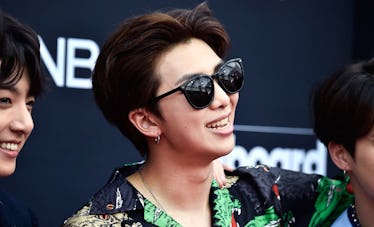 RM From BTS Dyed His Hair White In A Move That's Giving ARMYs Total Throwback Vibes
FRAZER HARRISON/GETTY IMAGES ENTERTAINMENT/GETTY IMAGES
The year might almost be over but the BTS boys aren't done surprising fans in 2018. In a move that most certainly shocked fans, RM from BTS has new white hair and it's making the ARMY feel super nostalgic. In typical BTS fashion, RM really nailed his new look.
On Dec. 22, the official BTS Twitter posted a photo of RM throwing up a peace sign with chic, black glasses and brand-new white hair. Fans are noting that RM, who is also commonly called by his real name Kim Nam-joon or "Joon" for short, had whiteish blonde hair once before in 2014, which was featured in the music video "Just One Day." The light hair back then was a drastic change from the brown he had been sporting earlier that year. These serious throwback vibes are causing fans to freak out and tweet things like "Joon is glasses and silver / white hair? It's a big, fat YES for me!!" and "Omg Joon in snow white hair! Advance Merry Christmas!!"
It's clear that RM's hair is a welcome change for the ARMY. By now, you're probably itching to see it too. So without further ado, check out RM's brand-new hairstyle that's festive and edgy at the same time.
Here's a look at that throwback video from 2014 that fans immediately began comparing RM's new white locks to:
I must say, I am also getting some very "Just One Day" vibes with RM's new look.
RM's transition to white hair comes shortly after another hair color change he revealed at the beginning of December when he showed up to the 2018 Melon Music Awards with purple hair. RM's hair color change places him with many of the other BTS boys who have switched up their locks in recent weeks. At the same award show where RM showed off new purple locks, V revealed his brand-new red hair which quickly became a fan-favorite. Later in the month, Jungkook showed up to the BTS "Love Yourself" concert at the Taoyuan International Baseball Stadium in Taiwan with newly-dyed black hair, a drastic switch from his previous reddish-brown color. Jimin debuted new grey hair at the 2018 MAMAs on Dec. 12 which matched his all-white red carpet outfit perfectly. A few months before that, he had showed up at a Berlin concert with a bright blue 'do.
Because it's so common for K-pop stars to dye their hair frequently throughout the year and especially around new releases, it's easy to see how adding a new hair color to the mix might be so exciting for the ARMY. Another reason for ARMYs to be pumped? It was recently revealed that BTS member Jimin was awarded his very own solo magazine cover for a January 2019 issue of Top Class, a publication that shares interviews of people who are at the top of their field. Seeing as Jimin landed the cover, it seems like BTS' success is as strong as ever.
Whether it's a new hue on the locks of any of the BTS members or achievements like a solo magazine cover, ARMYs are here for everything BTS is up to. And regardless of what hair color the boys are sporting at any given moment, it seems clear that BTS' success in the world of K-pop won't change anytime soon.