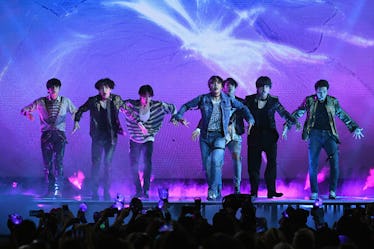 V From BTS Dyed His Hair Red & The ARMY Is All About This Major Change
Ethan Miller/Getty Images Entertainment/Getty Images
The 2018 Melon Music Awards were full of spectacular performances, huge wins, and even some surprises. Though fans were already looking forward to performances by their favorite artists and K-Pop groups, they didn't necessarily expect one huge change made by a member of fan-favorite boyband BTS — and that would be V's new look. V From BTS' new red hair at the MMAs has the ARMY completely freaking out and fans everywhere losing their minds over the change.
On Saturday, Dec. 1, 22-year-old South Korean vocalist Kim Tae-hyung, known by his stage name V, and member of world-famous K-Pop band BTS sported his new red hair on stage at the Gocheok Dome in Seoul. Though BTS' performance was one for the books, fans immediately noticed this stark hair color change and, for the most part, absolutely loved it. In a love letter to V, one Twitter user wrote, "I love your red hair, you remind me of a strawberry and I love strawberries." Another fan tweeted in all-caps: "HOLY DAMM RED HAIR TAE IS SLAYING ME."
If you haven't seen it yet, know that the pop star's red hair look is definitely a swoon-worthy and all-caps-worthy one. I mean, just take a look for yourself.
Excited by the vibrant hue, one fan, @sweaterpawschim, shared, "RED HAIR IS BACK!"
Other fans could barely handle this major change, with @kaderdady01 writing, "Hhhh v + red hair=me dead."
If you're an expert BTS fan, then you'll know that this is a return to red hair for V. He previously sported red hair during BTS' "Save Me" era.
Clearly, this isn't V's first rodeo with changing up his look. In the past, he's sported pink, purple, orange, green, blonde, light brown, and dark brown hair, a good way to keep fans on their toes and a fun way for V to keep changing things up.
In an article titled "Why It's Such a Big Deal When a K-Pop Star Dyes Their Hair," writer Devon Abelman notes that hair color changes typically signify that something big is on the horizon, like a new single, music video, or album, per Allure. He writes,
K-Pop stars distinctly change their hair, makeup, and outfits based on the concept or vibe of their new songs or albums. In just one year, they could have their hair dyed nearly a dozen different colors, depending on how much music they release.
Whether V's hair was strategic or not, one thing's for sure — the fans love it. Twitter user @xSaoky wrote: "Can we talk how HOT V LOOKS WITH RED HAIR OMFG." User @nabillanordin1 captured the general sentiment surrounding his hair perfectly with a tweet that said: "Im not crying im just having mental breakdown because kim perfect Taehyung in red hair please have mercy on me!"
BTS received several awards at the MMAs and gave an epic 20-minute performance with three songs and incredible choreography. Red hair or not, it's no wonder these boys are an absolute sensation.