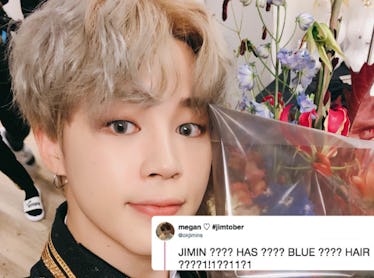 Jimin From BTS Dyed His Hair Blue, Which Means The ARMY Is Losing Their Minds
Twitter/BTS_twt
Jimin from BTS is causing quite a stir right now. Aside from being one of the world's hottest pop stars (along with his gorgeous BTS bandmates Jungkook, V, Suga, RM, Jin, and J-Hope), he's also just unveiled a new hair color that the BTS ARMY is literally going wild over. Jimin from BTS' new blue hair looks amazing and the BTS ARMY out there is definitely loving his new look.
Jimin's new hair color was unveiled during a performance in Berlin on Monday, Oct. 16. The 23-year-old pop star is no stranger to changing up his hair. In fact, he and his bandmates have cycled through a bunch of different colors over the years. His hair has been blonde, red, pink, and orange. And now it's blue! Since Jimin loves to change up his look quite a bit, fans were expecting him to go blue at some point, but they still weren't ready for this!
While there's no word on whether Jimin permanently dyed his hair (it could be sprayed on!), fans are genuinely excited to see a new hair color on their fave member of BTS. And Jimin seems equally happy to show it off. Fans on Twitter have been sharing videos and photos of Jimin's newly unveiled look. And many of them are expressing how they feel about the new hair color.
Some fans are really surprised by the change, while others can't get enough of Jimin's current look. Either way, the fans are happy to share and exchange their thoughts on Jimin's new blue 'do.
This is what Jimin's blue locks look like:
And this is what the fans are saying on Twitter about it right now:
Clearly, BTS' ARMY of fans follow Jimin's style very closely and they're beyond excited to see him sporting something new.
The videos of Jimin performing with blue hair come just days after he missed a recent appearance on Graham Norton due to sore muscles in his neck and back. The injury was detailed in an Oct. 11 statement from BTS' management, Big Hit Entertainment:
Good evening. This is Big Hit Entertainment. We regret to announce that one of the members of BTS, Jimin, will not be able to take part in the recording of the band's appearance tonight on the Graham Norton show. On the morning of the day of the recording, Jimin began suffering from severe muscle pain in his neck and back, and received medical attention. While Jimin made every effort to take part in the program, including arriving at the studio, the decision was made for Jimin not to take part in the recording due to his condition. We sincerely apologize to all of our fans who have been eagerly awaiting the band's appearance on the Graham Norton Show, and as for your understanding. Thank you.
Jimin is back to performing, obviously, and it appears that his neck and back pain has subsided and that's wonderful news! Now, he's back to doing what he loves and serving up a very interesting new hair color to boot! Whether his blue hair is permanent or temporary, it looks great nonetheless and I'm sure fans will appreciate this new look for however long it lasts.