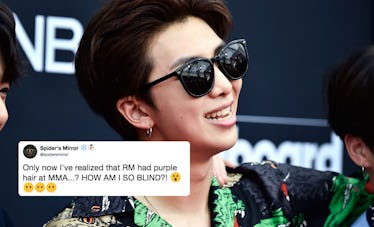 RM From BTS Dyed His Hair Purple, So ARMYs Are Flipping Out Over How Good It Looks
Frazer Harrison/Getty Images Entertainment/Getty Images
I am truly exhausted watching BTS take over the world. I mean, I have so many questions. How many hours do they rehearse? When do they sleep? How often do they call their parents? What do they do for the holidays? What are the specifics around their hair-color choices and when do they dye it? That's my most current, most pressing question after RM showed up at the Melon Music Awards on Dec. 1 with a new look. RM from BTS' new purple hair has RM-biased ARMYs bugging out in the best way possible. It's subtle, sexy, and oh-so-cool. Ya know, just like BTS.
The gang's performance at the MMAs was just one of the many they've performed this year, but it stands out for a few reasons. To begin, it opened with a gorgeous Buchaechum (traditional Korean fan dance) and awesome choreography from the BTS dance line, J-Hope, Jimin, and Jungkook. The crew incorporated traditional instruments, fans, drumming, and more into their melody to open their show-stopping performance of their hit, "Idol." While some were swooning over the incredible spectacle, loads of us were swooning over RM's new hair.
The rapper stepped out rocking deep lavender locks that caught the eyes of his die-hards. While it's hard to get a good look at any of the boys while they dance their hearts out, it was easy to see his new 'do when the group accepted the award for Album of The Year. RM spoke first, telling the audience, "Hello we are BTS."
Uh, duh.
You can see his hair color clearly in the selfies he took with one of his seven MMA awards after the show:
Let the tweets begin.
In usual RM style, he went on to speak from his heart, describing what the award meant to him specifically. In the YouTube video, his acceptance speech is translated from Korean to English as saying, "Firstly, of course I'd like to thank ARMYs for the love."
RM continued,
Just before I was behind the stage and my heart was pounding away. I was really nervous. Around 2004 or so, I remember when Melon first came about, and I [was] given a flyer on my way home for school advertising 'Streaming Club.' I'm reminded of that, and I'm really honored to be receiving the Album Of The Year Award here, 14 years down the track.
He then spoke about how special it is when fans actually buy albums in a day and age where streaming is the most popular way to consume music. "In this day and age where music is consumed like instant food, I think spending money to buy an album, which is an absolutely necessary commodity, is really an amazing, incredible act," he said.
RM went on, "In this day and age where album has lost a lot of its meaning, thank you for loving our carefully created intros, outros, skits etc. that are like our children."
Hey, you got it, dude.
Here's his speech, purple hair, plus some commentary from RM's fellow bandmates in totality:
If you want more, let me please direct your attention to their epic performance of "Idol" at the MMAs.
There's literally nothing (and no hair color) these guys can't pull off.