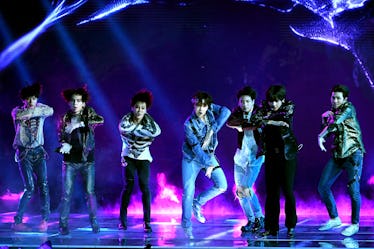 Jungkook's Video Of BTS Rehearsing For The 2018 MMAs Shows Some Serious Dedication
Kevin Winter/Getty Images Entertainment/Getty Images
The Melon Music Awards were on Saturday, Dec. 1, and it's no surprise that BTS dominated the entire event. Not only did the internationally acclaimed K-Pop group take home several awards but the boy band — comprised of V, J-Hope, RM, Jin, Jimin, Jungkook, and Suga — swept the competition with a whopping 20-minute performance. Jungkook's G.C.F. MMAs practice video shows how hard BTS works to perfect its performances, so what you saw on stage during Saturday's award show was no easy feat to pull off.
When it was time for the awards to start, fans saw the result of the band's hard work. On Saturday night, BTS performed "Fake Love," "Airplane pt.2," and "IDOL," according to Soompi, a Korean pop culture website. The group was also nominated for six awards: Best Artist, Best Album for Love Yourself: Tear, Best Song for "Fake Love", the Netizen Popularity Award, the Kakao Hot Star Award, and Best Rap/Hip Hop (for "Fake Love"). Fans went absolutely wild for BTS, tweeting about the quality of the group's performance at the MMAs or just freaking out about how hot the members are.
While that's well and good, fans also have the opportunity to get an even closer look as to how the performance all came together.
In this one-and-a-half minute video of BTS practicing for the MMAs, which was posted on Sunday, Dec. 2, fans get a look at how the boys prepped for the MMAs. Behind the scenes, you can see them relentlessly rehearsing the choreography for their three-song performance. In the vid, you can see the band working hard to perfect the Buchaechum, a traditional Korean fan dance. And some of the slow-motion cuts of the dance moves really give you a look into how complicated and intricate the steps are. I doubt you'll be anything but impressed after watching BTS prep for its MMAs performance.
Here's the full G.C.F practice video:
For those who may not know, G.C.F. is Jungkook's pseudonym for his hobby of making videos. There are so many more G.C.F videos online from a behind-the-scenes travel video called G.C.F in Tokyo, to a tour video called G.C.F in USA. These videos are so popular that fans even post their own reaction videos to them, like this 7-minute-long clip from YouTube user BRISxLIFE called "G.C.F 3J @2018 Melon Music Awards BTS Practice | Reaction!!!"
When describing the merit of Jungkook's videos, UK music station Capital FM shared that fans love the videos because it gives them a real-life look of the daily lives of these ultra-famous superstars:
We see the BTS boys everywhere these days, as they're the biggest boy band on the planet, but it is not often we see them offstage, without microphones or their trademark glitzy suits, but just hanging out with one another like any other bunch of friends ... BTS are absolutely loving Jungkook's filming talent and even want him to do a full length feature documentary, guys, he's kind of busy being a global superstar?!
Global superstars they are indeed. In addition to the nominations and wins at the MMAS, the boy band's 2017 EP "Love Yourself: Her" was number one on iTunes in 73 countries, per Forbes. The band's YouTube channel, BANGTANTV, has over 13 million subscribers and the views on their videos total well over 2 billion for their original songs.
It's clear that this international band isn't going anywhere anytime soon, and TBH, I couldn't be happier about that. More videos, please!