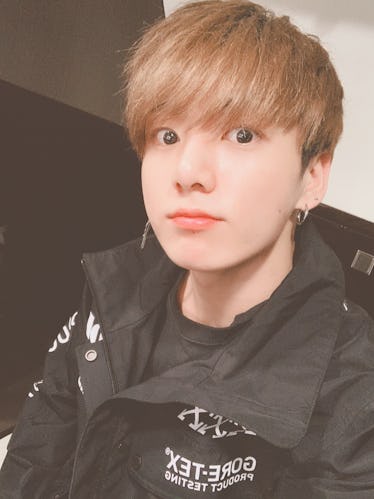 Jungkook From BTS Dyed His Hair Black In A Subtle Change That Has ARMYs Swooning
Twitter/bts_twt
The year may almost be over, folks, but that doesn't mean the BTS boys are done surprising the world. In an unexpected move, Jungkook from BTS has new black hair and in typical ARMY fashion, the fans are absolutely freaking out. Leave it to Jungkook to throw everyone a curveball!
On Saturday, Dec. 8, at the BTS "Love Yourself" concert at the Taoyuan International Baseball Stadium in Taiwan, Jungkook apparently debuted his brand new black hair, per Twitter posts stanning the move. It's really only a slight change from the reddish-brown color the singer had been sporting as of late, but ARMYs are into it. One fan noted that Jungkook arrived in Taiwan with the reddish-brown hair but got on stage with an entirely new look, writing "so you're telling me that jungkook arrived to taiwan with light brown hair and then at the concert he had black hair ?? satan works hard but bts stylists work harder."
But most other fans took to Twitter mostly to swoon over the change, tweeting things like "Black hair Jungkook is that btch" and "jungkook has black hair my prayers have been answered." Others were downright freaking out with joy. One fan wrote, in all caps: "HIS BLACK HAIR. HIS GOLDEN FOREHEAD. HIS HANDSOME FACE. I CANT BREATHE."
Here are some more reactions from the BTS ARMY that show just how obsessed everyone is with this new change:
This isn't the first time Jungkook has changed his hair this year. In June, he shocked fans by going bright red and later in the summer he dyed his hair blonde. The last time he had black hair was in the spring of 2018, when every BTS member was sporting the dark hair look.
Jungkook is also not the only BTS member whose hair has seen the rainbow this year. V recently debuted red hair at the Melon Music Awards and Jimin dyed his hair blue back in October.
According to Allure writer Devon Abelman, members of K-pop groups change hair color to signify that something big is brewing, or match the look of a new single or album. He explained,
K-pop stars distinctly change their hair, makeup, and outfits based on the concept or vibe of their new songs or albums. In just one year, they could have their hair dyed nearly a dozen different colors, depending on how much music they release...And the colors are never picked at random. Stylists work closely with record labels for months to strategically decide on the next hair color for every member of a group.
This means that only thing that's certain when it comes to a K-pop star's hair is that nothing is certain at all. And for those of you who have already fallen in unconditional love with Jungkook's new black hair, I hate to break it to ya, but it probably won't last. A huge part of the K-pop machine is keeping stars' hairstyles and looks in constant flux to keep the fans engaged, excited, and on their toes. I'm sure whatever Jungkook and the other BTS boys do next will be a big hit, too.