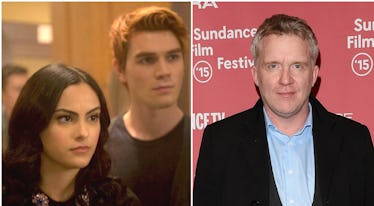 Riverdale High Has A New Principal Joining The Cast For Season 3
CW, Jason Merritt/Getty Images
Riverdale is bringing in the perfect person to help make its upcoming The Breakfast Club-inspired episode feel super authentic. The star of the iconic 1985 teen dramedy is joining the new season of Riverdale in one of the most talked-about episodes of Season 3. Riverdale has cast Anthony Michael Hall as the school principal in the upcoming flashback episode in Season 3, which will give fans their first look at the show's parents when they were in high school.
Anthony Michael Hall will play Riverdale High's Principal Featherhead in an '80s-set episode that will be inspired by one of Hall's most iconic movies, The Breakfast Club. Entitled "The Midnight Club," the fourth episode of Riverdale Season 3 will flashback to when the adults of Riverdale were in high school themselves, and in a dark twist on The Breakfast Club, we will find out about a shocking secret that they have been keeping from their children for all these years. The flashback episode will also feature the teen cast of Riverdale playing younger versions of their own parents: KJ Apa as Fred Andrews, Lili Reinhart as Alice Cooper, Camila Mendes as Hermione Lodge, and Cole Sprouse as F.P. Jones. The episode will also bring in Mark Consuelos' actual son Michael Consuelos to play young Hiram Lodge.
Showrunner Roberto Aguirre-Sacasa revealed Anthony Michael Hall's casting by posting a Riverdale High yearbook page, which also includes throwback photos of the show's adult cast as teenagers and jokey superlatives for the characters:
The episode will see Anthony Michael Hall taking on a completely different role from The Breakfast Club, becoming the school principal rather than the nerdy kid who wound up in detention. Hall is actually the second Breakfast Club star to appear on Riverdale — his costar from the iconic '80s movie Molly Ringwald recurs on Riverdale as Archie Andrews' often absent mother, Mary. Unfortunately, since Hall's appearance will be set in the past, it does not look like we will be getting a Breakfast Club reunion between Hall and Ringwald on the show.
"The Midnight Club" episode of Riverdale Season 3 promises to be not only one of the biggest episodes of the new season, but a potential game-changers for the series as a whole. The parents of the town have always seemed to be pretty sketchy to varying degrees, and this episode sounds like it will finally be revealing the reason why.
We will also likely see past storylines that have only been hinted at before, such as Alice Cooper as a Southside Serpent, and Hiram Lodge as the class jock whom Hermione Lodge chooses over Fred Andrews. Another love triangle we will probably get a look at will be between Alice, F.P. Jones, and Hal Cooper — Alice dated Hal throughout high school, but also kept up a secret fling with F.P. that resulted in her getting pregnant with his baby around the time of the high school's homecoming dance.
Season 3 of Riverdale will premiere on the CW on Oct. 10.