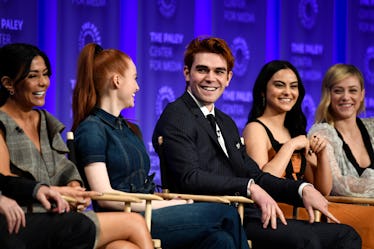 The 'Riverdale' Season 3 Trailer Is Finally Here & OMG I'm So Excited
Frazer Harrison/Getty Images Entertainment/Getty Images
After being away from the drama of our favorite small town for months, the wait is almost over. The Riverdale Season 3 trailer just dropped, so get ready to scream with excitement. Archie and the gang had a rough go of it in Season 2, but what's in store for them in season 3? A whole lot of drama, apparently.
On Sunday, July 22, the CW released the first trailer for the upcoming season of Riverdale during their panel at San Diego Comic-Con, and if you're not caught up stop reading right now because there are spoilers everywhere after this. At the end of Season 2, just as Archie was about to be nominated for student body president, he was arrested for the murder of Shadow Lake resident Cassidy Book, a crime he didn't commit. Poor Archie. It looks like Season 3 will kick off after a bit of a time jump, as apparently we're getting right into the good stuff. "Season 3 starts off with Archie on trial," Star KJ Apa told the room at Comic-Con on Sunday, according to IGN. He added, "I guess we'll see if he's gonna go away or not." Can I just hope for "not?" That would make for a very weird Season 4, after all.
While the outcome of the trial is unknown, after the "worst summer ever," Archie just wants himself, Betty, Veronica, and Jughead to "have a normal Labor Day weekend," according to the trailer. But if I know anything about Riverdale, they're not gonna get it.
Take a look at the Season 3 trailer and tell me if I'm wrong:
I know everyone's worried about Archie, but let's not forget the rest of the crew. With Archie framed for murder and on trial, how will that affect his relationship with Veronica?? Camila Mendes teased that their relationship might face some bumps in the road. "I think they're gonna run into some problems," she said. Apa added, "The distance and separation, if he goes away, is going to be tough," according to TVLine. Guys. Stop teasing me.
With all the distance, Veronica needs something to fill her time and keep her mind of Archie. Not to worry, according to IGN, she might have found a distraction. "She'll be running a speakeasy out of Pops," said Mendes. "She'll be working at Pops', just hustling — we'll show that she's not a spoiled rich girl." That sounds oh-so-very Veronica Lodge, and I'm here for it.
Bughead fans are also in luck because it looks like Betty and Jughead are on solid ground in Season 3, according to TV Line. Lili Reinhart told the Comic-Con audience,
Right now I think they're rock solid. They start off Season 3 as the investigative duo they were in Season 1 - they tackle one of the new mysteries of Season 3 head on.
Now that we know Bughead lovers have nothing to worry about (for now), there's another exciting bit of information. According to Entertainment Weekly, fans will get another musical episode this season. Can this show get any more dramatic?
Apparently so, because we all forgot about the regular, normal high school drama (the kind that has nothing to do with murder). According to Entertainment Weekly, Season 3 will also include some normal high school stuff like applying to college and SATs. Scary.
It's nice to see that the gang is still intact in the trailer (at least for a little while), but I don't think that Archie is going to get the normalcy he's looking for. But, hey, what's fun about normal anyway? If I want that, I'll read the comics.