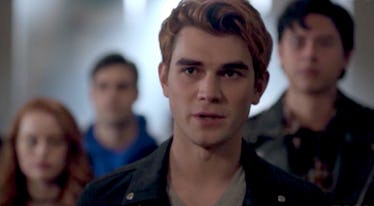 The 'Riverdale' Season 2 Finale Ended On A Major Cliffhanger & I'm Worried About Archie
CW
We all knew that Riverdale was gunna hit us with a huge cliffhanger at the end of its Season 2 finale, right? I mean, it has kind of become what this show is known for — Season 1 ended with fans wondering whether Fred Andrews was alive or dead, and even the episode prior to this finale had us all worried about the possibility of Jughead dying. Luckily, the finale cliffhanger did not end up being as life-threatening as either of those earlier ones, but it was still major. If you're wondering why Archie got arrested in the Riverdale finale or anything else that went down in that drama-filled finale episode, don't worry: We can break it all down for you right here so you will be ready for Season 3.
Spoiler alert: Obviously, don't read on if you have not yet seen the Riverdale Season 2 finale, "Brave New World." The main takeaways from Wednesday night's twist-filled finale episode all revolve around the not-so-new big bad, Hiram Lodge. Once Archie and crew finally put the Black Hood mystery to rest after finding out that Hiram had hired Tall Boy to impersonate the killer in order to try to kill Fred Andrews, their focus shifted to Hiram himself. Veronica finally rejoins the good side and forces her dad to relinquish Pop's, agreeing to being cut off and effectively de-Lodged in the process, and Archie stops trying to suck up to Hiram and instead gets super threatening, brandishing a knife in his office and promising to come after the mafia boss.
Archie and company may know a lot of Hiram's crimes now (he's hired Penny Peabody, the Ghoulies, and Tall Boy to try to kill like... most of their loved ones), but a big part of his grand plan is still unknown to the teen detectives. The core four know that Hiram is planning to turn the South Side into a giant prison, but what they don't know is that he is working with Penny Peabody, the Ghoulies, Sheriff Minetta, and Claudius and Penelope Blossom to use the prison as a front for a new drug empire.
In order to keep the newly galvanized Archie out of his hair while he moves forward with his plan, Hiram has Sheriff Minetta arrest Archie in front of the whole school, and right when he is about to be sworn in as the new class president, no less.
The crime Archie is charged with? The murder of Shadow Lake resident Cassidy Book. Remember Cassidy? He was that cashier that the group met back when they took a trip out to the Lodge family's cabin in the woods a while back. You know, the dude who decided to break into the cabin and threaten to kill Archie, Veronica, Betty, and Jughead while robbing them. Well, we all know that Archie did not kill Cassidy, but it might be hard for him to prove that...
The person who actually killed Cassidy was Hiram's right-hand man Andre, who was secretly guarding the kids on their trip to Shadow Lake, but Archie is the only one who knew about Andre's presence there. After Cassidy's attempted robbery, Archie chased him through the woods and cornered him, and there, Andre showed up and told Archie that he would take care of it. As Archie walked back to the cabin, he heard a gunshot.
Unfortunately, Archie did not tell anyone about Andre being at the lake, or about Andre killing Cassidy. For all everyone else knows, Archie really was the last person to see Cassidy, since he chased the robber into the woods alone... and that does not bode well for Archie's case. Obviously, Hiram knew that he could easily frame Archie for the murder and went ahead with it, so the first thing that our crew is going to have to do in Season 3 is figure out some way to prove Archie's innocence and get him out of jail.