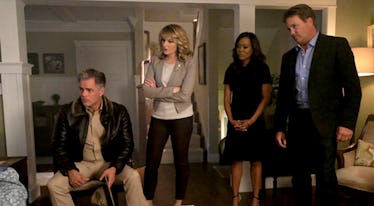 'Riverdale' Season 3 Will Include A Flashback Episode To The Parents' Time In High School
CW
The secrets of Riverdale are finally going to come pouring out in a major way when the show comes back for its third season. So much of the mystery in the CW's dark teen drama is buried deep in the hidden pasts of the town's adults, but for the first time ever, Riverdale Season 3 will include a flashback episode to show us what these shady parents were really up to back when they were all in high school. This episode could potentially include major bombshell reveals for the series and be one of the most important episodes the show has aired, so it is hugely exciting news. Let's go over everything we know about this flashback episode, including who is lined up to play the younger versions of the Riverdale grown-ups.
Showrunner Roberto Aquirre-Sacasa revealed that a flashback episode is in the works for Season 3 during the Riverdale Comic-Con panel over the weekend. Throughout the show's two-season run, the murky past lives and connections between the teenage leads' parents has been revealed to be at the core of most of the mystery and drama. In Season 1, it was Cliff Blossom and F.P. Jones who hid their dark secrets and involvement in the murder of Jason Blossom, and Season 2 revealed even more about Alice Cooper's past life as a Southside Serpent and Hal Cooper's grim childhood as he was raised to be a psychotic killer. Now, fans will get to see what was really going on with Fred Andrews, Alice Cooper, F.P. Jones, Sheriff Keller, Hiram Lodge, and the rest of the shady adults in the show back when they were all in high school.
One particular event that seems ripe for this flashback episode would be the Riverdale High homecoming dance. We know that Alice Cooper and Hal Cooper were crown king and queen of their homecoming dance, but before that, F.P. Jones spotted them fighting because Alice had told him she was pregnant with another man's baby. Almost definitely, the baby in question is Alice and F.P.'s supposedly deceased son Charles Smith, which Alice gave birth to in secret and gave away to the Sisters of Quiet Mercy to raise. A flashback to this moment could not only include more details about Charles Smith (who is still a mysterious character), but also further explore Alice's romantic relationship with F.P., which it looks like will be heating up in Season 3.
The other big question about this flashback episode is who is going to play the young versions of all these adults? Thankfully, Roberto Aquirre-Sacasa had an answer for that one too — the showrunner revealed that he wants to have all the teen actors portray their own parents in the flashback. That means KJ Apa would play young Fred Andrews, Lili Reinhart as young Alice Cooper, Cole Sprouse as young F.P. Jones, and Camila Mendes as young Hermione Lodge. Oh, and of course, we might also get to see Madelaine Petsch as young Penelope Blossom, Casey Cott as a young Sheriff Keller, and Ashleigh Murray as a young Sierra McCoy.
Riverdale Season 3 will premiere on the CW on Oct. 10.