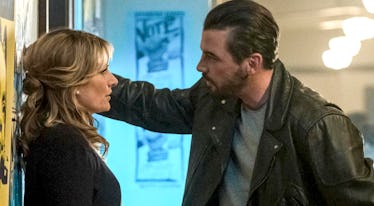 There Might Be A Major 'Riverdale' Wedding In Season 3 & I'm Speechless
CW
The steamy romances aren't just for the teenagers in Riverdale — it looks like the fan-favorite will-they-won't-they couple of Alice Cooper and F.P. Jones are going to make things official in the show's upcoming season. In fact, a quick look at Mädchen Amick's Instagram account seems to suggest that things are going to get pretty serious pretty quickly between Alice and F.P. when the show returns. Alice Cooper and F.P. Jones might get married in Riverdale Season 3, so get ready for all the #Falice you can handle.
Riverdale has been teasing a romantic relationship between Betty's mother Alice Cooper and Jughead's father F.P. Jones for a long time now. In Season 2, fans learned that Alice Cooper was a member of the Southside Serpents as a teenager, and had a brief relationship with F.P. back when they were in high school. Despite their romance, though, Alice stayed with Hal Cooper throughout high school and ended up marrying him. Towards the end of the season, Alice confirmed that F.P. was the father of her son Chic, who is presumed dead. The revelation about Chic brings Alice and F.P. closer together... along with the fact that Alice had been separated and discussing divorce with Hal throughout the season. Now that her relationship with Hal is most definitely out of the question, the stage is set for Alice to rekindle her romance with F.P.
And that is exactly what looks to be happening. Mädchen Amick posted a cute selfie with F.P. Jone actor Skeet Ulrich during production for Season 3, but she spilled the real tea in her Instagram stories.
In between photos of herself and Skeet Ulrich, Mädchen Amick shared a photo of a wedding ring on her hand, asking her followers, "Any guesses what this is?" Ummm, yeah we've got a guess! How could we not!?
It definitely seems like Mädchen Amick is trying to tell us that Alice and F.P. are going to get engaged in the new season of Riverdale, right? That is a pretty shocking development, considering Alice and F.P. are not even officially dating right now... oh, and they are both married to other people.
Although Alice and Hal near finalized their divorce in Season 2, it never actually happened, and now that Hal is locked up that could be a bit trickier. And if you can believe it, F.P.'s marital status is even more confusing. His estranged wife left him to live in Toledo with their daughter Jellybean, but there has been no indication to this point that the couple ever officially divorced. So, if Alice and F.P. really do try to get married in Season 3, they are both going to have to be sure they aren't already married first. This potential plot point could wind up leading to the introduction of Jughead's mom and his sister Jellybean on the show, which fans have been waiting for since Season 1.
The other kind of awkward thing about a marriage between Alice and F.P. is how it would affect Betty and Jughead's relationship. Dating your step-sibling just doesn't sound too great...
We will be seeing a whole lot more of Alice and F.P. when Riverdale returns for its third season on Oct. 10 on the CW.