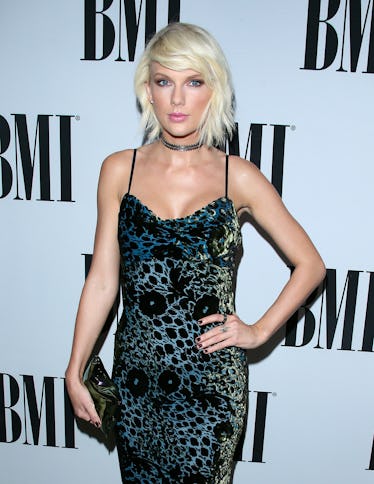 These Reviews Of Taylor Swift's 'Reputation' Will Get You Pumped For The Drop
Mark Davis/Getty Images Entertainment/Getty Images
We are literally SO CLOSE to the release of Taylor Swift's newest album, Reputation. She's been teasing us for weeks and weeks (feels like years, TBH), and we are about to cross the finish line. So far, Swift has released three songs and two music videos in relation to her newest record. Although the album hasn't been released, reviews of Taylor Swift's Reputation are already coming in and they're amazing. Prepare to get even more excited... if that's even possible.
The first review comes from a very trusted place — singer, international superstar, and one of Swift's closest friends, Selena Gomez. Gomez has recently released her own banger, as well. "Wolves" is the singer's first collaboration with producer and DJ Marshmello, and it's been extremely well-received by fans.
While doing press for "Wolves," the topic of Reputation came up (of course). During an interview with Zane Lowe for Beats Radio 1, Gomez was asked: "Have you heard the Taylor album? Is it good, is it incredible?"
Rather than simply answering "yes," because obviously it's going to be incredible, Gomez gave some hints about Swift's album content and it sounds like it's going to be freaking spectacular.
Gomez answered: "Would you expect any less?" She added,
It's so inspiring. It's really cool to surround yourself with people and be involved with people who are aspiring and changing the way that they dictate what they love, whether it's acting or music, and she's one of those people who will continue to do that.
Honestly, I'm so pleased with this answer. Besides getting me pumped for Reputation, I love how Gomez kind of lays her opinion out and doesn't give a vague response.
She was asked specifically if Swift had personally played the record for her and Gomez replied,
Yeah! For sure. I obviously love her so much and I want her to do what she does and she's killing it and it's everything you would want and more. So, [I'm] very proud, and obviously [a] major fan.
The second celebrity endorsement for Reputation came from Ed Sheeran. He stayed a little more tight lipped than Gomez. During a recent interview with Roman Kemp on Capital Breakfast, Sheeran said about the album,
Yeah, I think the songs are great, I think the visuals, she's really putting everything into the visuals as well, the visuals are really impressive. I think people will like the album!
I weigh this review pretty heavy because Sheeran can be brutally honest. Plus, him and Swift are close friends. There's been rumors that there will be a collaboration track featuring Sheeran, but nothing has been confirmed as of now. HOW AMAZING WOULD THAT BE THOUGH?!
The only other people who have listened and commented on the album is a handful of fans that Swift invited to a Reputation listening party. Swift literally stalked fans on social media and handpicked people to attend the party in London on Oct. 13.
The singer is no stranger to holding intimate listening parties ahead of the release of new music. She had a similar gathering in 2014 when she was getting ready to release her album, 1989.
Let me just say, Swift definitely knows how to throw a listening party. Besides knowing literally everyone's name, there was swag and tons of fun extras for party goers.
The album also received glowing reviews from fans. One song is apparently going to make me sob and I'M SO READY FOR IT.
Basically, according to fans, Reputation is going to be pure fire. Not that I expected anything less from Swift.
I CANNOT WAIT FOR REPUTATION. Swift's newest album releases on Nov. 10 and I'm sure it's packed full of unbelievable songs and (knowing Swift) a few unexpected surprises.
Check out the entire Gen Why series and other videos on Facebook and the Bustle app across Apple TV, Roku, and Amazon Fire TV.