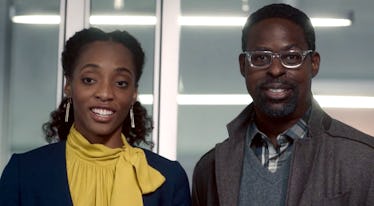 That Old Randall Scene From 'This Is Us' Is The Show's "Ending Storyline" & I'm Unwell
NBC
This Is Us fans have already seen how the entire show is going to end. The last moments of the family drama's second season left many viewers scratching their heads, and now showrunner Dan Fogelman is clearing up some things about that flash-forward to Randall Pearson's future. Fogelman recently told Entertainment Weekly that Randall's flash-forward scene in This Is Us is the "ending timeline" for the series as a whole. So, yeah, that means This Is Us viewers have already gotten a glimpse at the end of the show.
In case you forgot, Season 2 of This Is Us ended with a surprising time jump decades into the future, which showed an elderly Randall telling a grown-up Tess that it was time for them to visit with an unnamed "her," although neither of them seem comfortable with it. The cryptic line spawned numerous fan theories: Is Beth dead? Is Annie fatally ill? Is Deja in prison? Who are they talking about!? Well, thankfully we can at least rule out the first (and most prominent) theory, because Susan Kelechi Watson confirmed Beth won't be dying on the show. Dan Fogelman promised that we will get answers to the "her" mystery in Season 3, but it will be through process of elimination rather than just a straight-up reveal.
Even more interesting, though, is the idea that this flash-forward to Randall's future is actually a glimpse at how This Is Us will end. A few months ago, Sterling K. Brown teased that the flash-forward will "illuminate what the end of our story will be," and Dan Fogelman echoed that statement, saying that he does not envision the show ever going beyond the point in time we saw in that flash-forward:
I don't imagine us going past this time period in the future so in terms of a timeline, this is our ending timeline. But we may have other past timelines we're going to introduce in the course of the series, and also other future story lines that we might introduce as well.
It is pretty surprising to hear that This Is Us is already preparing for its end after just two seasons... and after becoming a ratings juggernaut for NBC. The family drama seems to have the steam to run for countless seasons based on its viewership numbers, but Dan Fogelman has stated before that he does not believe the series will overstay its welcome. A couple months back, Fogelman even revealed that the This Is Us team had already shot pieces of the final scene of the series. Obviously, Fogelman has a clear plan for how he wants This Is Us to end, and he is already actively putting the pieces in place on the show to build to that series finale.
The third season of This Is Us will consist of 18 episodes, and the premiere episode will include a flashback to Jack and Rebecca's first date, as well as some drama between Beth and Kevin when Beth starts to pick up on a flirtation between Kevin and her cousin Zoe. Season 3 of This Is Us will premiere on Sept. 25, 2018 on NBC.