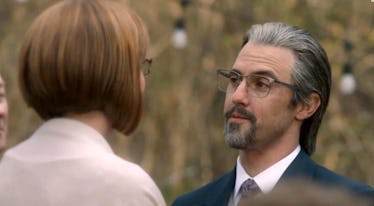 The 'This Is Us' Series Finale Is Already Being Filmed & Yes, You Read That Correctly
NBC
We may not know what will end up happening to the Pearson family over the coming years, but the This Is Us team sure does — in fact, they have already filmed parts of the series finale! Notice that I did not say season finale... yeah, we are talking about the very last episode of the entire show. Showrunner Dan Fogelman just let it slip at a For-Your-Consideration Emmy event with the rest of the cast that parts of the This Is Us series finale have already been filmed, per Deadline. So, wait... does that mean that we are already nearing the end of the hit NBC family drama? And what can we deduce about the big series finale now that we know it is already being filmed? Let's get into all these questions and more right away.
First things first: although Dan Fogelman revealed that he has "already shot pieces of the final scene of the series," that does not mean that This Is Us will be ending any time soon. After all, it is one of the most popular shows on television right now. Fogelman told the crowd that he and the show's writers are "pretty far out" from where This Is Us currently is (between Seasons 2 and 3) at this point, but also promised that no matter what success the series finds, he does not want it to overstay its welcome. So it sounds like fans are still going to get several more seasons of This Is Us, but don't expect it to go on for ten seasons.
We're pretty far out. Our writers and I are kind of to the end. We know where it ends and we have a path for each season of the show. We've always had a plan. We didn't want to get stuck. We had the kids and the timelines, and had to have a plan. I don't think this show despite any success it may or may not have, will overstay its welcome.
The rest of the This Is Us cast was also present at the event to drop even more hints about what this filmed-in-advance series finale might entail. Sterling K. Brown mentioned that the cliffhanger with Randall at the end of Season 2 actually ties into the series finale.
In the recent season finale, viewers saw a future version of Randall admit to his daughter that he is not ready to see a mysterious "her" yet. Everyone had tons of guesses about who the possibly dead female character may be (Beth? Rebecca? Kate?), but Brown implied that we won't find out the answer to that mystery in Season 3. Instead, he said that the revelation of which character Randall was talking about is a big part of the series finale, and that viewers will probably be shocked to find out who "her" actually is:
That big thing in regards to who the "It's time to go see her, I'm not ready to go see her"; I'm not going to tell you who (it is), but it sort of leads to the end game of our show, not the end of the season per se, but the show as a whole. And who you think the 'her' is, is probably not who it is in typical Fogelman style.
Wow, OK now I just cannot stop thinking about what this big This Is Us series finale might be. If they are filming it now, that seems to suggest that they want to capture the show's actors at their current ages, so that they won't have to worry about them looking slightly older after several more seasons. It's clear that the show loves jumping through time, so the finale will almost definitely be flashback-heavy.
I guess the series finale mystery will just have to be something we all continue mull over as the show goes on. This Is Us will return for its third season this fall on NBC.