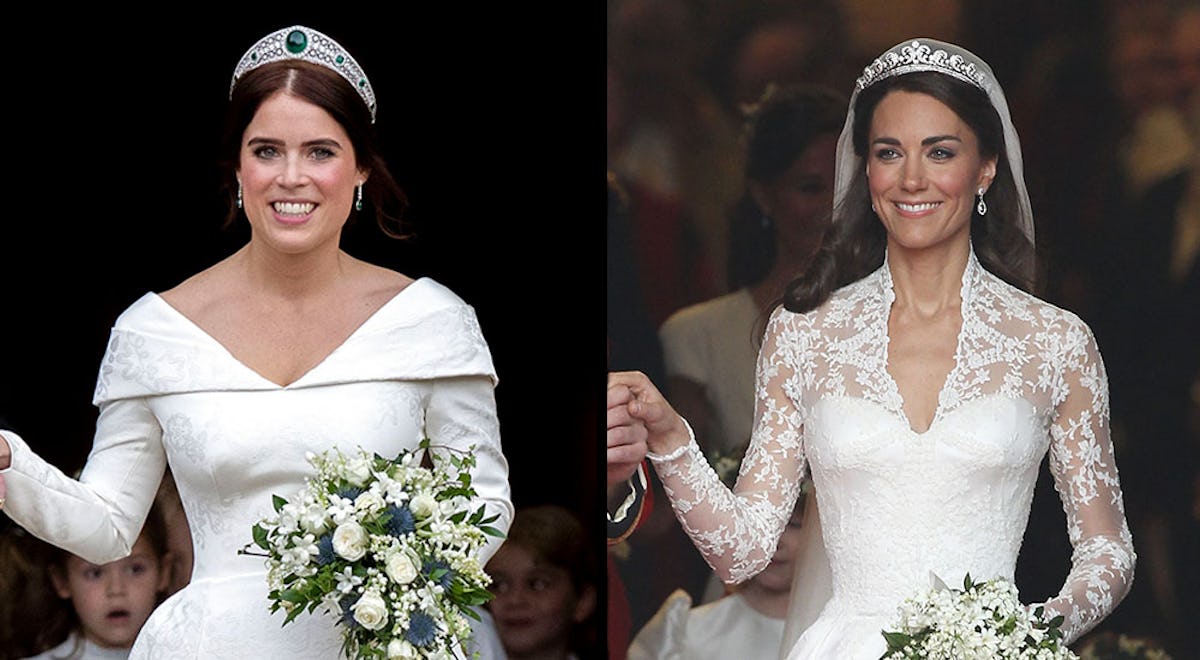 Here's How Princess Eugenie's Eye Color Made Her Wedding Makeup So Different Than Kate Middleton's
WPA Pool/Getty Images Entertainment/Getty Images; Chris Jackson/Getty Images Entertainment/Getty Images
Hear ye, hear ye, it's time for a royal beauty breakdown. That's right folks, now that Princess Eugenie has strut her stuff down the aisle and officially said "I do" to Jack Brooksbank, we can finally take a look at Princess Eugenie's wedding makeup versus Kate Middleton's glam and compare the two bridal beauties and the looks they loved on their big days. Spoiler alert: They both looked totally stunning in their own special ways, but it's still fun to see what the duo did similarly and differently!
Let's start with Kate Middleton, who had her wedding day back in 2011 when she married Prince William and officially earned her current title, the Duchess of Cambridge. While Middleton's wedding gown was the biggest statement in her bridal look — I mean, it's hard to top those lacework details and an almost-9-foot train — many were quick to praise her makeup as well, acknowledging how classic and natural it was, and how consistent it was with her typical beauty routine.
To be clear, Kate has never been heavy-handed with the makeup. Here's a shot of her from way back in 2008, pre-royal wedding, rocking some barely-there blush and light liner:
Post-royal wedding, she tended to be a bit more dolled up, but only slightly so. 2018 Middleton is still going for a liner-and-blush combo, but she's also added a little bronzer and highlight to her cheek game for some additional warmth and glow:
Overall, Middleton's look has been consistently natural and light, including on her wedding day. This makes sense, because Middleton reportedly did her own bridal makeup. Can you believe?
To ensure she stayed true to herself with her bridal look, Middleton channeled her inner MUA and apparently created this look herself:
Um, hi, Kate, can you do my makeup sometime? Allure reports that she received a few private lessons with London makeup artist Arabella Preston in advance, and clearly, Preston's tips paid off. Middleton's brows looked dark and defined, her lower liner and smoky shadow made her eyes pop, and her complexion looked radiant as always, down to her signature pink cheeks.
Keep in mind, her makeup had to be flattering in person as well on TV (and often, a look only suits one or the other) so Middleton really did a great job:
As for Princess Eugenie, she definitely took a cue from Middleton when it came to the glowy skin, pink cheeks, and a natural lip, but she changed it up when it came to the eyes:
For her big day, Eugenie donned the Greville Emerald Kokoshnik Tiara, which has emerald jewels that perfectly match the Princess' eyes. Rather than do a dark, smoky eye look like Middleton's, Eugenie clearly wanted all eyes to be on hers, so she went with a lighter shadow look plus lashes for days.
She also really went hard with the bold brows, featuring a straight shape and a square front. The style framed her peepers perfectly:
I really, really love this natural glam on Eugenie, especially with the brows and lashes drawing attention to her glittering eyes, which were further accented by what looks like a swipe of sparkly champagne shadow. According to PEOPLE, Bobbi Brown UK's pro and artistry manager, Hannah Martin, was the makeup artist in charge of getting the princess wedding-ready.
Apparently, Martin went in with just a sheer layer of foundation, a pink blush on the cheeks, and a nude gloss on the lips to compliment the subtle eye makeup — it was Princess Eugenie's own natural beauty that really pulled the look together:
In the end, both women really wowed with their wedding day glam, and while I'm seriously impressed with Middleton's makeup artistry skills, all I can say is, should I ever be a part of my own future royal wedding, I'm calling in that royal glam squad and getting the full princess treatment, because I deserve brows as perfectly filled in as Eugenie's, even if my eyes won't match my emerald tiara.