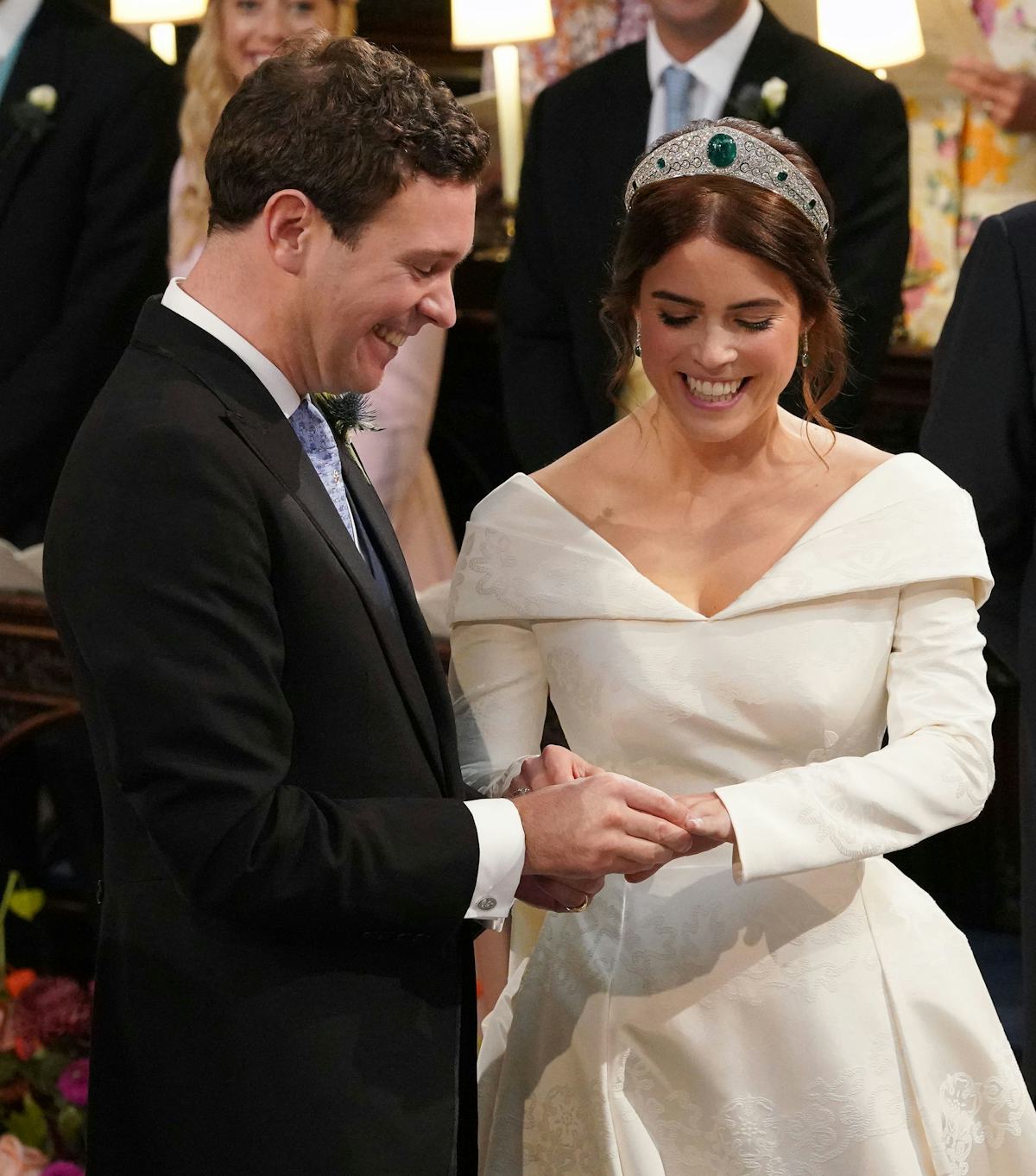 Princess Eugenie & Jack Brooksbank's Monogram Is Missing One Major Thing
WPA Pool/Getty Images Entertainment/Getty Images
OK. Royal stuff is wild, you guys. There is so much that happens when you're born into the British fam! For example, when you get married you get a royal monogram. But, it's not just any monogram. These monograms are extra fancy! This symbol is used on stationary and official documents and also represents your status and title within the family lineage. Princess Eugenie and Jack Brooksbank's royal monogram was unveiled in advance of their wedding day and differs from her other family member's in one key way. Their monogram does not have a coronet (or crown) hovering above it. Dun dun dun!
The fact is, Brooksbank is not a royal, and based on the monogram is looks like he will not be receiving a title, either. Princess Eugenie's individual initial has a little coronet above it, but when she combined her "E" with Brooksbank's "J," the little crown was removed. They opted to place their initials very close to each other, but side-by-side. This differs from Kate Middleton and Prince William's monogram, which features a "C" (for Kate's full name, Catherine) floating above a "W" for William.
Meghan Markle's cypher is a delicate capital "M" with a coronet made out of two crosses pattee (a type of Christian cross), four fleurs-de-lys and two strawberry leaves. Her joint monogram with Harry is particularly special, because rather than place their initials on top of each other or side-by-side like their relatives, they opted to combine their initials into one unique symbol. (Essentially, it looks like an "M" with a horizontal line going through it, much like a capital "H.")
Here is a closer look at the Duke and Duchess of Sussex's monograms compared to Princess Eugenie's and Jack Brooksbank's.
Princess Eugenie and Jack Brooksbank:
Prince Harry and Meghan Markle:
While it's hard not to compare everything to Meghan Markle and Prince Harry, the fact is Princess Eugenie and Jack Brooksbank had a killer wedding. On Friday, Oct. 12, the royal gang gathered once again at St. George's Chapel to celebrate. Jack and Eugenie looked so in love while they exchanged vows and rings in front of a packed crowd (plus, ya know, the world or whatever.)
Princess Eugenie's dress was completely stunning. It featured a dramatic train, long sleeves, and a criss-cross detailing in the back. She also decided to nix a veil entirely, which definitely broke tradition. The tiara she chose is called the Greville Emerald Kokoshnik tiara, which the Queen let her borrow for her special day.
I'm sure there is something symbolic here regarding Eugenie's decision to nix the veil and their monogram missing a coronet, but I'll have to wait for royal professionals to explain to what it is.
In the meantime, royal fans are enjoying all of the other fun details still seeping out of the UK following the big day. With any luck, more information regarding the after-party and ins and outs of the couples' decision-making process will be out soon!
Congratulations, guys!