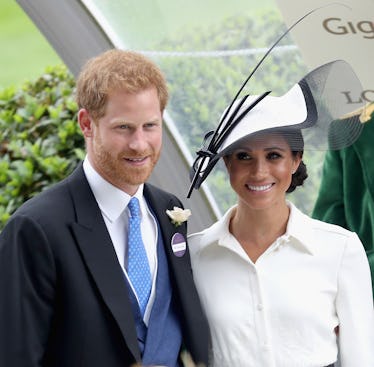 Meghan Markle & Prince Harry's Joint Monogram Is So Romantic & Shows How Connected They Are
Chris Jackson/Getty Images Entertainment/Getty Images
I don't know about you, but I feel like I learn something new about Prince Harry and Meghan Markle every single day. So, what's the latest on the Duke and Duchess of Sussex? They have a super cool monogram that's only recently been unveiled! Meghan Markle and Prince Harry's joint monogram was presented to Australian audiences via Georgie Gardner, who's a news anchor on Australia's The Today Show.
Australian television seems like an unusual place for a royal monogram to be revealed, right? Well, there's a reason for that. On the show's July 25 airing, Gardner announced that she had received a letter from Harry and Meghan and she was super excited to share it.
While covering the royal wedding, Gardner decided to send the newlyweds a gift. Lo and behold, the royal couple sent her a thank you note nearly three months after tying the knot.
In the letter, Harry and Meghan thanked Gardner for "the incredibly thoughtful wedding gift" and apologized that she did not receive word from them earlier. "As you can hopefully understand, it has been a very busy time for us," the letter read.
As Gardner read the letter aloud, the Australian morning show displayed a picture of it on screen. And that's when eagle-eyed fans spotted the joint monogram.
Find out what was in the letter down below:
The monogram appears to be a combination of the letters "H" and "M" for Harry and Meghan, of course. On the letter that Gardner received, the couple's monogram appears in royal blue and includes a coronet. According to People, the coronet "features two crosses pattee (a type of Christian cross), four fleurs-de-lys and two strawberry leaves."
Fancy, indeed. Here's a look at the joint monogram:
As you may or may not know, Meghan used to work as a professional calligrapher, so it makes total sense that her joint monogram (also called a cipher) with Harry would be as elegant and beautiful as it is.
Shortly after marrying Prince Harry, Meghan was given her own official monogram, which is basically the same as the joint one she and Harry share... except that it includes only the letter "M". Harry's is similar, though his coronet is a bit more complex in design.
All in all, the new joint cipher is simply a coming together of the two. And that makes sense given how incredibly connected Harry and Meghan are to each other. It's not just that they're married; they also seem to share similar mindsets and aspirations. So, this monogram really exemplifies that.
The reveal of the monogram comes at a time of tension and discord for Meghan. Her father, Thomas Markle, has recently been opening up to media outlets about their private relationship. Meghan's sister Samantha has also been doing the same. The public's reaction hasn't exactly been favorable toward Meghan's family and she has reportedly ceased communication with them.
At the very least, Meghan and Harry's joint monogram shows that they stand together... no matter what anyone has to say about their union.