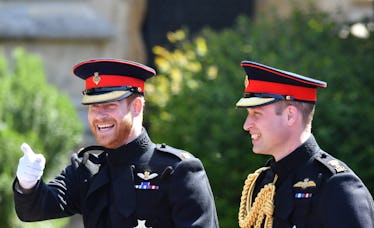 Prince William & Prince Harry's Body Language At The Royal Wedding Says So Much About Their Bond
WPA Pool/Getty Images Entertainment/Getty Images
Since I know for a fact that you watched the royal wedding on the morning of Saturday, May 19, you and I have a lot to talk about. As expected, Meghan Markle looked drop-dead gorgeous (seriously, I can't with her), and as per usual, the royal kiddies, Charlotte and George, were the cutest little things to ever walk the planet. But what I really want to focus on is Prince William and Prince Harry's body language at the royal wedding, because it was so brotherly and adorable.
If you haven't already watched the earth-shattering event, turn on that TV, kick back, and re-watch the magic happen. Trust me, you'll be happy you did. After you take some time to ogle over Queen Elizabeth's goddess-like presence and all of the frilly, lovely wedding decor, take a look at the royal brothers' body language — because it's super interesting. First, you can see Prince William, who was consistently by Harry's side throughout the entire wedding. The duo seemed to have been enjoying their time with one another, as expected. There's a pretty likely chance you're wondering why either of them appeared to be carrying themselves this way, and don't worry — I have all the answers.
Elite Daily spoke to Body Language Expert, Traci Brown, about the brothers' body language. Brown is the author of Persuasion Point: Body Language and Speech for Influence, and she was able to comment on the interactions between Prince Harry and Prince William throughout (and before) the ceremony. Referring to the photo below, Brown says that Harry is "so happy, he's coming out of his skin." She continued, and says, "A huge smile and a wave showing his full palm. There's no secrets here — he's not holding anything back. It's just the way you'd want a groom to show up for his big day!"
Commenting on Harry and William walking together below, Brown says, "We see Harry much more happy here than is brother. He's smiling with his eyes. William is much more subdued, smiling more with his lips... real smiles are with the eyes! This difference is typically what we see from these two in happy moments and is what we'd expect from any groom and groomsman."
Brown commented on the photo below, and believes something is going on here. She tells Elite Daily, "William is worried about something here as they chat. See his lowered eyebrows? Is he imparting last words of advice? Wouldn't it be great to know what's being said?"
Body Language Expert Susan Constantine also commented on the interaction between William and Harry in the last photo, and agrees that something was "uncomfortable." She says, "Willam's forehead shows stress as he looks over and make a comment to Harry. The stress could be how the British responded to preachers performance. I saw many of the royal containing and concealing smirks thought the preachers performance. It was uncomfortable."
Overall, it seems like Prince Harry and Prince William stayed super close to one another during the royal wedding, and it's obvious that William makes Harry super happy.
As you know, Prince William and Prince Harry are incredibly close, which makes a lot of sense. At a young age, they endured some pretty tough stuff together, like the heartbreaking death of their mother, Princess Diana. And, as you probably know, something as traumatic as that is enough to stick any two people together like glue.
And through all the hardship that the bros have been through together, William was Harry's best man. Although I've been to very few weddings in my lifetime, I know for a fact that watching your family get married can be emotional and quite exciting. William is obviously proud of his brother right now, and it's seriously making my weak heart flutter. UGH, BRB, I need a tissue, and maybe a lifetime supply of chocolate. I'm getting some serious waves of second-hand emotions right now, and it's way too much to handle.
I know there's a lot going on at the royal wedding right now, but one of the most important things to look at is Harry and William's body language. With Harry and William showing such happiness when they're together, it's clear that the brothers are super close. These two are honestly too much right now, and their subtle interactions are seriously stealing the show.