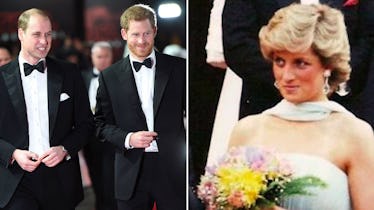 These Photos Of Princess Diana With Harry & William Will Make Your Heart Hurt
WPA Pool/GEORGES BIARD/Getty Images Entertainment/Getty Images
With the royal wedding just a handful of days away, it's a great time to reminisce about Prince Harry's childhood. The world watched both William and Harry grow up, most of the time flashing smiles that very much resembled their mother, Princess Diana's, smile. Tragically, Princess Diana died from injuries she sustained in a car accident on Aug. 31, 1997, but her legacy lives on through her two sons, and it's clear that both William and Harry try to honor her in as many ways as they possibly can. And looking back at these photos of Princess Diana with Harry and William will make your heart hurt just a little bit, despite how beautiful the images themselves are.
But before we start bawling our eyes out looking at all of the beautiful images that were shared with the world, let's take a minute to appreciate just how much William and Harry have honored her legacy and how often they commemorate her life in the current day.
In an intimate interview with People back in May of 2016, Prince Harry talked about how everything he does is in the hopes of making his mother proud. He said,
All I want to do is make my mother incredibly proud. That's all I've ever wanted to do. When she died, there was a gaping hole, not just for us but also for a huge amount of people across the world. If I can try and fill a very small part of that, then job done. I will have to, in a good way, spend the rest of my life trying to fill that void as much as possible.
Before you grab the tissues, take a look at what Prince William had to say during an interview with GQ back in May of 2017. When asked about the anniversary of this mother's death, he said,
I am not looking forward to it, no, but I am in a better place about it than I have been for a long time, where I can talk about her more openly, talk about her more honestly, and I can remember her better, and publicly talk about her better. It has taken me almost 20 years to get to that stage. I still find it difficult now because at the time it was so raw. And also it is not like most people's grief, because everyone else knows about it, everyone knows the story, everyone knows her. It is a different situation for most people who lose someone they love, it can be hidden away or they can choose if they want to share their story. I don't have that choice really. Everyone has seen it all.
Alright, now you can cry.
But maybe checking out the images below of Princess Diana with her family will make you feel slightly better, because who doesn't love reflecting back on old family photos? So try to hold yourself together for just a little longer, OK? OK.
Here's Princess Diana carrying a tiny Prince Harry back in 1985:
Look at how transfixed she is on him. That's cuteness overload right there.
And here's Princess Diana With Prince William back in 1987:
Look at how tiny he was back then! Also, does anyone see just a little bit of Prince George in this photo? Because I certainly do. Verdict's still out on little Louis, though.
This one is from 1989, showing Princess Diana taking William and Henry to school in London:
The royal brothers look very dapper, and Princess Diana is looking so adoringly at them. Beyond sweet.
Can we talk about this perfect photo opp of Princess Diana with William and Harry at Niagra Falls in 1991?
So *maybe* Prince William doesn't look overly thrilled to be there, but he's smirking nonetheless.
But nothing, and I mean nothing, beats the joy on Princess Diana's face on a theme park ride with her two sons in 1993:
While it's devastating to lose someone who was so fundamentally good at such a young age, it's incredibly heartwarming to hear that her two children will always be here, reminding everyone of her character. When speaking to BBC about the documentary, Diana, back in June of 2017, Harry said,
I think it's never going to be easy for the two of us to talk about our mother, but 20 years on seems like a good time to remind people of the difference that she made not just to the royal family, but also to the world.
I'm pretty sure that if she were still here today, she'd be elated with all of the accomplishments both William and Harry achieved and the people they've chosen to spend the rest of their lives with. I know the rest of the world certainly is.