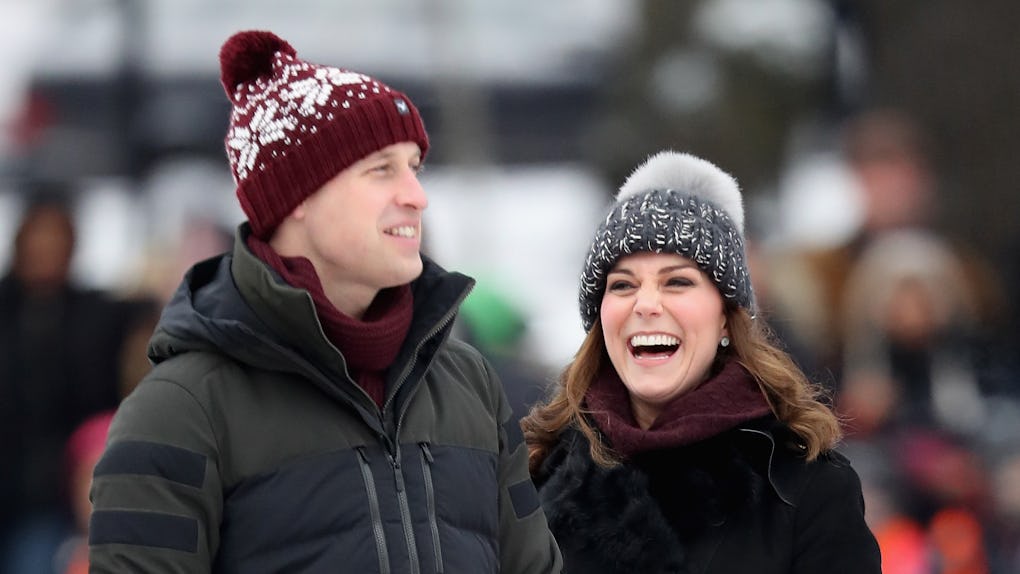 Chris Jackson/Getty Images Entertainment/Getty Images
Prince William & Kate Middleton's Sweetest Moments Are Almost Too Cute To Believe
Being in the royal family seems like a dream. While I'm not quite clear on what the practical purpose of royalty is at this point, that doesn't change the fact that they do tons of good for the UK and that they're a delight to follow. Even though Meghan Markle and Prince Harry have been getting most of the attention lately, Prince William and Kate Middleton are the OG royal love story of our generation, lest we forget. While the details of their relationship are kept under wraps (as they should!), some of Prince William and Kate Middleton's sweetest moments over the years have happened in public, and thanks to the magic of the internet, we've had a front row seat.
Their relationship first went public back in 2004, after being photographed by paparazzi on a ski trip together. They shared an apartment with a few friends while in college at University of St Andrews and after graduating, took a quick break in 2007. They got back together soon after, and got engaged in 2010. Needless to say, since then, a ton of pretty awesome things have happened for the couple, some of which have been adorable to witness. In the spirit of love, let's take a look back at the sweetest moments the Duke and Duchess of Cambridge have shared over the years.
Their Earnest Engagement Interview
Their official engagement interview with ITV's Tom Brady aired in November 2010. The connection between the seasoned couple was undeniable. The poise and ease with which they dealt with tough questions and even addressed their brief breakup in 2007 only further convinced the world that they're a match made in heaven.
Their Iconic Balcony Kiss
Let's not forget that epic balcony kiss. While it might not have been the most passionate kiss, all the hype around their royal wedding made their highly anticipated post-ceremony smooch pretty sweet. And TBH, years later, I'm still not over Kate's dress. Those beaded lace sleeves were opulent AF.
When They Welcomed Prince George
I'll start off by saying that I'm sure the birth of every one of their kids has been a moment to remember. That said, when your first child is basically going to inherit one of the most powerful thrones in history, you're probably pretty excited. Plus, how scary must it be to be a first-time parent? Safe to say, no one is exempt from that feeling, royal or not. Look at the scared but adorable look on Kate's face!
When They Took Prince George To The Zoo
Is it just me, or do these three look like they're straight out of a catalog? One of the cutest moments ever was definitely their family visit with baby George to Sydney's Taronga Zoo. Their 2014 trip to Australia was part of the first royal tour after the Prince's birth.
This Touching Moment, During Kate's Most Recent Pregnancy
Remember when Kate was pregnant with Prince Louis just a few short months ago? I definitely do, and in a rare show of PDA, William placed his hand on Kate's back at the annual Irish Guards St. Patrick's Day Parade in Hounslow.
When They Dreamily Locked Eyes
The dreamy looks on their faces pretty much say it all. This royal couple couldn't look more smitten with each other while sharing a drink at a reception in Berlin, Germany.
The Most Publicly Affectionate We've Ever Seen Them Be
It's interesting to note that from the start of their relationship, William and Kate have done their absolute best to keep their public appearances professional.
"They really don't touch much in public," body language expert Traci Brown told Elite Daily. "It's royal protocol so they're keeping up tradition." That's why their joyous embrace at the 2012 Olympics while celebrating a British win was so exciting! Celebrities... they're just like us!
It goes without saying that William and Kate are a power couple that knows how to take care of business. Considering that upholding their family name is such a huge part of their careers, these two do a pretty stellar job of balancing their public and private lives. The connection that they share might not be the most overtly and physically intimate (at least in public), but I'm swooning over their love nonetheless. Will + Kate = 4Ever!
Check out the "Best of Elite Daily" stream in the Bustle App for more stories just like this.