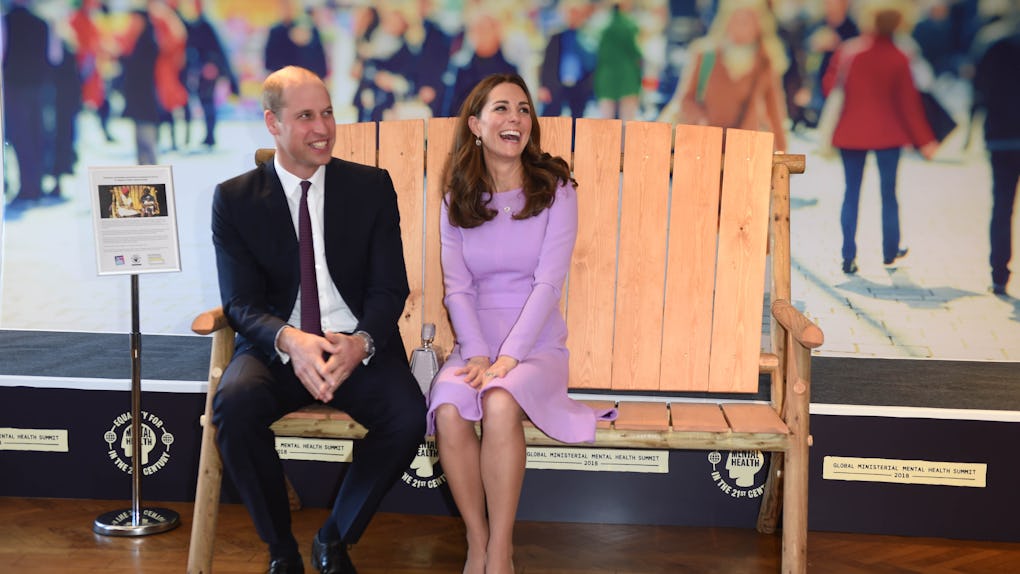 WPA Pool/Getty Images Entertainment/Getty Images
Prince William & Kate Middleton's Body Language At The Global Mental Health Summit Is So Cute
With all the hype surrounding Prince Harry and Meghan Markle since their royal wedding in May, Prince William and Kate Middleton have kept a low profile — especially since the birth of their third child, Prince Louis, in April. But on Oct. 9, they stepped out together for the first time since Kate started maternity leave from royal engagements. And thank god, because we missed them! According to body language experts, Prince William and Kate Middleton's body language at the Global Mental Health Summit shows they're still the same beautiful couple we've come to love and admire over the years.
Before we dive in, a little background on their relationship: Prince William and Kate Middleton met in 2001, when they began college at the University of St Andrews in Scotland. They were both art history majors, so they had a lot of the same classes and quickly became friends. When Kate and William moved in with some of those friends, their relationship started to change. They dated for a few years but took a break from their relationship in 2007. They rekindled their love after a few months apart and have been happily together ever since. They got engaged in 2010, married in 2011, and welcomed Prince George in 2013. Princess Charlotte was born in 2015, and later, Prince Louis in April 2018. Now that little Louis is five months old, Kate is back to making royal appearances both on her own and alongside Will. Here's what their recent body language at the Global Mental Health Summit tells us about the state of their relationship.
1. They're the same solid unit we've grown to love.
When a couple is completely into each other, both partners tend to mirror each other. If you look at Will and Kate's body language in this picture, it's an exact match. "Their attention is on the same thing, and they're even swinging their arms, mirroring each other," Traci Brown, body language expert and author of Persuasion Point: Body Language and Speech for Influence, tells Elite Daily. "William and Kate are looking like they're the together, solid unit that we're used to seeing."
Body language expert Patti Wood and author of Success Signals: A Guide To Reading Body Language agrees with Brown. "If you go from the head, all the way down to above the knee, you've got a matching set of body language clues," she points out. She notices that Will and Kate are walking completely in line with each other. She says that shows they're on the same plane. "It just speaks well of their relationship," Wood says.
2. She's even more confident than before, and he's all for it.
Here, the focus is more on Kate than it is on Will. "All the attention seems to be on her — or at least she's the one talking — and he's got his hand on her leg in support," Brown says. (Swoon! You can support me any day, Prince Will.) Kate has found a kind of happy medium in this picture. She's showing off her confidence, while also making sure it's known that she's still taking Will into consideration.
"She's typically more subdued, a little bit shier, but here she has her head up, and has a nice broad, expansive gesturing process, which shows her confidence," Wood says. "But at the same time, if you look at her upper torso, you'll see how it leans toward him to say, 'This is my mate. I want to be seen as a couple.' If you see her leg, it's relaxed toward him. If you look at that upper thigh, it's toward him."
3. He's enjoying her laughter.
The couple's body language at this particular event shows that maybe Will is taking a step back and letting Kate take the lead. "I see her being a little more center-stage than I usually see her, but in a really positive way," Wood points out. "I love that her laugh is so large, and she's really spontaneous in the laugh. I love how he's looking at her laugh, and it's giving him pleasure. He is enjoying her laughing, and that's just really nice and really sweet." And no, I'm not crying. I just got something in my eye. It's the pollen or something.
4. They're totally in sync.
Based on their body language, the fact that Will and Kate are really connected is foolproof. "See how they're in step? That's what couples who are really connected do," Brown explains. "They're on the same wavelength." Besides being in sync, the way they're walking together at the same pace shows that they see each other as equals. "He's not leading her or pulling on her or anything, they're just nicely in sync," Wood says. "They're both in good spirits and really happy and nicely energized."
It's not like we needed further confirmation that Will and Kate are one of the most adorable couples on the planet, but we got it anyway, and I am totally OK with that. Their body language at the Global Mental Health Summit just gave us even more proof that they're a couple to be reckoned with. May the Duke and Duchess of Cambridge continue to bless our lives with their cuteness.