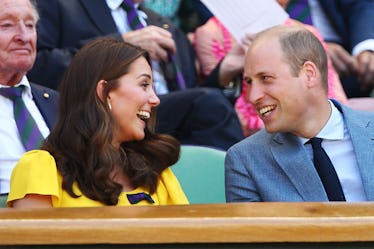 Prince William & Kate Middleton's Sweetest Quotes About Each Other Prove Love Is So Real
Clive Brunskill/Getty Images Sport/Getty Images
While the royal family lives so much of their lives in the spotlight, they're actually pretty low-key when it comes to their romantic relationships. Considering they'd probably like some privacy, it's understandable. But all we really need are Prince William and Kate Middleton's quotes about each other to prove that their love is as real as it gets.
While many might think that the Duke and Duchess of Cambridge's love story began with their fabulous royal wedding in 2011, they actually went through a lot before that. The two met their freshman year at St. Andrews, according to Vanity Fair, and it wasn't exactly smooth sailing from there. They attempted to hide their romance from the world for a while, and Prince William even dated a few other girls along the way.
But now, here they are, more than 15 years later, with three adorable kiddos and a life of their own. Looking at how they got to where they are now is just further proof of how meant-to-be they truly are, and how in love they still seem.
Let's take a look back on Prince William and Middleton's romance, and all the sweet things they've said about each other along the way. Grab a tissue, you'll need it.