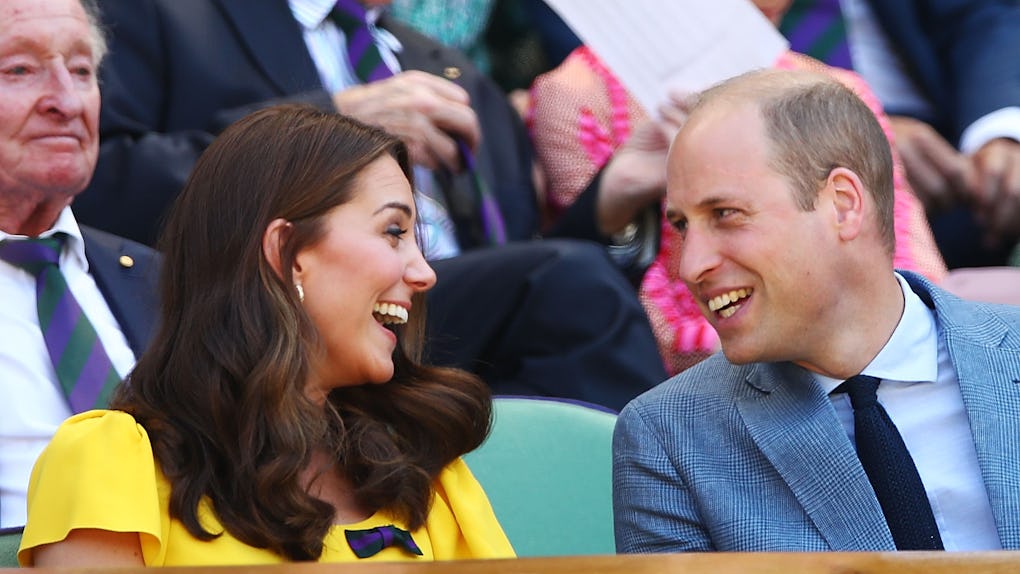 Clive Brunskill/Getty Images Sport/Getty Images
Prince William & Kate Middleton's Quotes About Each Other Are So Precious, Ugh
While the royal family lives so much of their lives in the spotlight, they're actually pretty low-key when it comes to their romantic relationships. Considering they'd probably like some privacy, it's understandable. But all we really need are Prince William and Kate Middleton's quotes about each other to prove that their love is as real as it gets.
While many might think that the Duke and Duchess of Cambridge's love story began with their fabulous royal wedding in 2011, they actually went through a lot before that. The two met their freshman year at St. Andrews, according to Vanity Fair, and it wasn't exactly smooth sailing from there. They attempted to hide their romance from the world for a while, and Prince William even dated a few other girls along the way.
But now, here they are, more than 15 years later, with three adorable kiddos and a life of their own. Looking at how they got to where they are now is just further proof of how meant-to-be they truly are, and how in love they still seem.
Let's take a look back on Prince William and Middleton's romance, and all the sweet things they've said about each other along the way. Grab a tissue, you'll need it.
After their engagement, they were both all smiles.
In 2010, Prince William and Middleton announced their engagement, and gave an exclusive interview to ITV, answering the most important questions. Tom Bradby of ITV News conducted the interview, and it definitely revealed a lot of sweet details from the couple's engagement.
For instance, Prince William explained what he thought about Middleton when they first met, according to The Telegraph, saying,
"She's got a really naughty sense of humour, which kind of helps me because I've got a really dry sense of humour, so it was good fun, we had a really good laugh and then things happened."
Honestly, if your partner can't make you laugh, then what are you doing? In the same interview, Wills also revealed that he teases the now-Duchess about her little habits, which just makes me love them even more.
"Obviously we both have a very fun time together, both have a very good sense of humour about things, we're down to earth, we take the mickey out of each other a lot, and she's got plenty of habits that make me laugh that I tease her about."
So sweet!
Middleton also revealed her first thoughts on meeting Prince William.
Obviously, if you're meeting a literal prince, you're going to be a little nervous. So when Middleton told Bradby about how she felt when she first saw and met Prince William at St. Andrews, her response makes total sense.
"Well I actually think I went bright red when I met you and sort of scuttled off, feeling very shy about meeting you," she said, according to The Telegraph.
Honestly, who could blame her?
Middleton appreciates how Prince William takes care of her.
The two lovebirds definitely appreciate how they look after each other, and Middleton herself has even revealed how much of a gentleman Prince William is.
"You know, over the years William has looked after me, he's treated me very well — as the loving boyfriend he is, he is very supportive of me through the good times and also through the bad times," she said, according to Hello!
Prince William really admires Middleton's mothering skills.
Now that the happy pair are married with children of their own, their relationship has obviously changed. But what hasn't changed is the love they have for each other. According to BBC, Prince William said his wife was taking to motherhood beautifully.
"It is fantastic having a lovely little family and I am so thrilled. Catherine has been doing an amazing job as a mother and I'm very proud of her."
Ugh. Heart melting.
Obviously, Prince William knows his late mother would love Middleton.
Unfortunately, Prince William's mother, Princess Diana, passed away in 1997, and it must be difficult for both Prince William and Prince Harry to not have their mother by their sides during life's biggest moments. Prince William said as much, according to E! News, when he talked about his wedding to Middleton, saying,
"I think she would have loved the day and I think, hopefully, she'd be very proud of us both for the day. I'm just very sad that she's never going to get a chance to meet Kate."
Prince William and Middleton's love story is as real as it gets, and although their life has changed a lot since they first met, their love has only grown.
Check out the "Best of Elite Daily" stream in the Bustle App for more stories just like this!