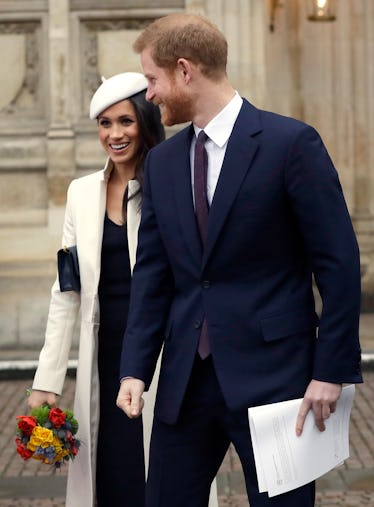 Prince Harry Raised His Eyebrows At Meghan Markle & The Moment Is Causing Controversy
WPA Pool/Getty Images Entertainment/Getty Images
It looks freaking exhausting being a member of the royal family. You have to shake so many hands! There is protocol and rules for everything, right down to what your face should look like at public events. At the Commonwealth Celebration Day in London, England, on Monday, March 12, Prince Harry and his new fiancée stepped out with the Queen to honor her commitment to the Commonwealth. During a special performance by Liam Payne, Prince Harry raised his eyebrows at Meghan Markle just when the camera was pointing at him. It has caused quite a stir in the media, and fans are wondering if the couple was just enjoying themselves or making fun of the singer in broad daylight. *Gasp!*
Payne was there to sing a beautiful rendition of the song "Waiting On The World To Change," and honestly, he did a pretty awesome job. Markle was seated right behind Queen Elizabeth and dazzled the public in a winter white ensemble. As Payne sang, the cameras swept over the fairly low-key audience who sat quietly and listened. Markle was ever-so-slightly bopping her head, which seemed to catch Prince Harry's attention. Though we seriously have no context clues over what the silent exchange might have actually been about, it seems like Prince Harry was making commentary on Payne's song.
You guys tell me. You can see Markle enjoying the tune in the video below right around the 20-second mark, and Harry raises his eyebrows at second 40.
Here is a better close up of Harry's expression and Markle giggling.
I don't know, guys. It feels a little nit-picky! For all we know, someone is kicking the back of both of their chairs at this exact moment, or Markle is holding in a sneeze, or Prince Harry has to pee. So many things could be happening that have nothing to do with Payne's sweet, baby-angel performance.
For his part, Payne showed nothing but graciousness and class. In a pre-performance interview, he told reporters,
I'm really excited to perform for the Queen and royal family today. It's obviously a massive honor for me to be here, even in this place. So, I mean, it's amazing. Thank you for having me.
He also shared a sweet photo on Instagram of himself shaking hands with her majesty. In the picture, it looks like he even made her smile.
He captioned the image,
An absolute honour to meet the Queen today on such a fantastic occasion. Privileged to share the room with such inspirational @queensyoungleaders, hear their stories and how they are helping to rebuild and preserve a sometimes broken world [prayer hands emoji]
The event also marked Markle's first appearance out with Queen Elizabeth since her engagement to Prince Harry. While Markle's been making appearances left and right since accepting the gorgeous ring, she and the Queen seem to have had little bonding time so far.
Presumably, all of that is about to change when she becomes Mrs. Prince Harry on Saturday, May 19, of this year. The wedding is quickly closing in on Markle and the royal team, and the crowd is growing restless. The public has a few awesome key details about the big day, but a lot will be left as a surprise. One rumor circulating is Ed Sheeran was asked to sing a few songs, though it is unclear if one of his tunes will be the official first dance.
Of course, now we're all wondering, WHAT ABOUT LIAM, GUYS? Give him another chance!
Check out the entire Gen Why series and other videos on Facebook and the Bustle app across Apple TV, Roku, and Amazon Fire TV.