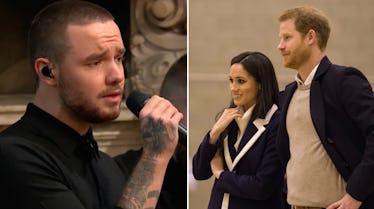 Liam Payne Performed For Meghan Markle & Prince Harry & It Was Seriously Amazing
BBC One/WPA Pool/Getty Images Entertainment/Getty Images
Well, well, well. What do we have here? It seems to be a former boyband member performing for the actual Queen of England! There are a lot of perks for Meghan Markle now that she's joined the royal family, and watching Liam Payne sing live is one of them. (That, and attending lots of fancy parties and having the wedding of the decade. You guys get it.) Liam Payne's performance for Meghan Markle and Prince Harry was honestly gorgeous.
Payne's performance went down at the Commonwealth Service at Westminster Abbey on Monday, Mar. 12. The family attended the celebration to honor Queen Elizabeth's "lifetime commitment to the Commonwealth" which apparently is, like, really freaking big. It encompasses 2.4 billion people, to be exact. The Commonwealth also spreads across 53 countries.
Payne has been killing it in his solo career since One Direction disbanded in 2016. He has successful singles out like "Strip That Down," "Bedroom Floor," and "For You," which was heavily featured in the film Fifty Shades Freed. Hard to say what made the Commonwealth think, "Ah, yes. These are the kind of tunes we want our Queen to hear!," but who am I to judge? If Payne was up for the challenge, than I suppose it's his right to sing sexualized lyrics to whoever will listen.
In reality, he sang a truly lovely rendition of the song "Waiting On The World To Change." Payne exuded confidence, poise, and charisma sitting on a single bar stool in a black faux turtle-neck between two guitar players. Though he was technically dressed down when compared to, ya know, royalty, he totally dropped his good-boy-turned-bad vibes and looked like a total gentleman. Sure, it was a little entertaining to see him perched up there under a gorgeous Westminster statue sitting next to stuffy Englishmen, but overall, he killed it.
In a pre-performance video, Payne talked about meeting young people from the Commonwealth, telling reporters,
It was really amazing to sit there, and, ya know, listen to each of these individual stories of the amazing things that these people have overcome and done for other people... [It's] really great. To see [people] from so many different nations and it was all so diverse, it was fantastic. And honestly, I felt very proud of everybody and it was an honor to be there for me.
He also said,
I'm really excited to perform for the Queen and royal family today. It's obviously a massive honor for me to be here, even in this place. So, I mean, it's amazing. Thank you for having me.
If the thoughtfulness wasn't already enough for you, he also shared a truly adorable picture of himself shaking hands with the Queen and looking like a perfect modern wizard from Harry Potter. His caption read,
An absolute honour to meet the Queen today on such a fantastic occasion. Privileged to share the room with such inspirational @queensyoungleaders, hear their stories and how they are helping to rebuild and preserve a sometimes broken world.
According to BBC, this event was also Queen Elizabeth's and Meghan Markle's first public appearance together, though it is just the first of SO MANY to come!
Obviously, one of the biggest events coming up for Markle and the royals is her wedding to Prince Harry in May. There's no telling if Payne will be invited to that soirée, but after today's performance, my money is bet on YES. Maybe he can even sing "Here Comes The Bride."
Check out the entire Gen Why series and other videos on Facebook and the Bustle app across Apple TV, Roku, and Amazon Fire TV.