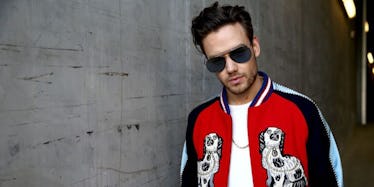 Liam Payne Calls Out One Direction In First Solo Track Called "Strip That Down"
Getty Images
Another One Direction member has broken away from the pack and the result is some sweet, sweet solo music.
Liam Payne dropped his first single called "Strip That Down" featuring Migos' Quavo on Friday.
There's no denying this song will be a hit in the clubzzzz. Is anyone else getting Justin Timberlake vibes?
The song definitely sways more toward the hip hop stuff, like Payne's former One Direction bandmate Zayn Malik is making. Harry Styles has also dropped solo music, but his sound is much slower and emotional. Louis Tomlinson and Niall Horan have also released music on their own since 1D's breakup hiatus.
Speaking of One Direction... Payne makes it a point to call out his former group in the lyrics of his new track. He sings,
You know, I used to be in 1D (now I'm out, free) People want me for one thing (that's not me) I'm not changing, the way, that I (used to be) I just wanna have fun (and get rowdy) One Coke and Bacardi (sippin' lightly) When I walk inside the party (girls on me) F1 type Ferrari (6 gear speed) Girl, I love it when your body (grinds on me)
He's out, FREE!
In case you're living under a rock and need a refresher, Zayn Malik was the first to leave One Direction in March 2015. Shortly after, the group announced a hiatus and have yet to get back together. In my opinion (I'M SORRY, 1D FANS), they've all moved on to bigger and better things.
Liam Payne has also moved on to bigger and better in his personal life. The singer welcomed his first child, a son named Bear, with girlfriend Cheryl Cole on March 22, 2017.
He posted the first photo of Bear on Instagram.
Payne partly captioned the photo,
I'm incredibly happy to welcome our new baby boy into the world, it's a moment that I will never forget for the rest of my life and my favourite memory I have so far.
Needless to say, 2017 has been a good year for Liam Payne.
Citations: Liam Payne Drops Debut Solo Single "Strip That Down" (feat. Quavo) (E! Online)