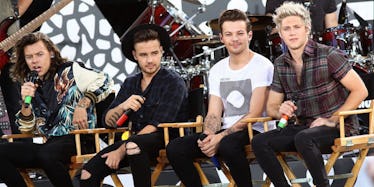 It Looks Like One Direction's 'Hiatus' Is Officially Over
REX/Shutterstock
I guess we can all stop holding our breath now.
The One Direction "hiatus" is most likely over.
According to Liam Payne's latest posts, he's signed with Capitol Records.
On one hand, I feel like I should be happy for him. He'll finally be able to post something on social media other than selfies and photos of him cuddling his girlfriend.
Liam's a talented performer -- he can actually sing -- and he's had his hand in songwriting and producing for a while now. He's come a long way since the first (and the second) time he auditioned for "The X Factor."
Remember this little guy? That hair. That smile. That voice.
But I'm also a little upset. When Zayn left the band, it seemed like the end of the world.
Thankfully, we still had Harry, Liam, Niall and Louis to keep touring. They even made another album, Four!
Their break was called a "hiatus," which is defined as "a pause or gap in a sequence, series or process." A PAUSE!! That was all it was.
I held on to the hope they would reunite. I prayed I'd be able to see them on tour again. I needed another music video to watch 57 times in a row.
With Liam's announcement, I must let go. I guess it's finally time to say goodbye.
One Direction, thanks for the memories, the music, the laughs and the tears.
Rest in peace. I will miss you forever.