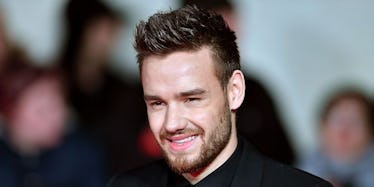 Liam Payne's Newborn Baby Boy May Finally Have A Name And It's The Cutest
Getty Images
Parents these days, you guys feel me?
Equally-beautiful singers Liam Payne and Cheryl Cole recently welcomed their first baby boy and spent a week "getting to know him" before deciding on his name.
The anticipation has been killing fans, and has new parents everywhere asking themselves, "Wait, did we hastily decide on the name Craig? What if we find out he's actually a Levi? Dear God, what have we done!?"
Liam and Cheryl reportedly went with... drum roll please... Bear Payne, and I'm not mad.
The duo pulled the ol' bait and switch when Cheryl revealed to GQ in a 2012 interview that she's always loved the name Alfie for a boy. Liam, however, told Hits Radio he has always favored the name Taylor, regardless of gender.
Well, the "so pretty it's stupid" parents threw caution to the wind and, apparently, came to decide on Bear together.
A source close to the couple told The Sun,
They didn't have the name Bear before the birth. But they'd been thinking of a name since meeting him and they just felt it suited him. They love their little baby Bear Payne and are truly over the moon and loving being parents for the first time together.
Beyond just revealing the name, the couple has kept a lot of their new life with baby Bear private, posting just one photo of Liam holding his son in his arm.
And while sources can't confirm it yet, I have great reason to believe this baby will grow up to be perhaps the most gorgeous human on earth. Why? Call it a hunch.
You can't be born from a mother who has an actual rose garden for a butt and NOT be a literal flower.
We wish the new family continued happiness and health, and we hope to see more photos of the little cub soon!
Citations: CHER BEAR Cheryl and Liam Payne name their baby boy Bear after spending a week 'getting to know' the newborn (The Sun), THE VOICE (GQ)