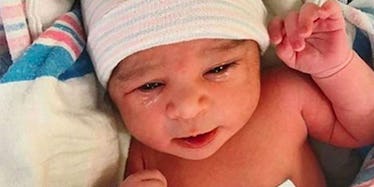 Here's A Definitive Ranking Of The Worst Celebrity Baby Names Of 2016
Instagra
Let's just rank this year's babies, shall we?
While most babies you see in life are adorbale lil' smush nuggets that look like sentient dough piles, their names aren't always great. Sorry, facts are facts. At least 30 percent of babies born are cursed with a dumb name.
If you're reading this, there is a good chance you know some dope with a name like Boris Spitoris or Alinore Aleerbe.
Writer's Note: I KNOW PEOPLE WITH THOSE TWO NAMES. 
Celebs had babies this year, and a few of them got screwed over in the name department. Some got super cool names though, so I decided to list them out.
Here is the world's official, 100 percent legally binding, 2016 celeb baby name ranking chart from best to worst.
1. Deveraux Octavian Basil Jagger (Mick Jagger)
This is the most badass name of all time. He could be a spy, he could be a gin company, he could be the name of a small island off the coast of France.
2. Anacã (Candice Swanepoel)
3. Shaffer Chimere Smith Jr (Ne-Yo)
Alexis somehow got pregnant and had a kid without any of us knowing. We don't have pics of it, and we don't know it's name. That's amazing, and I'm the single biggest fan of Mystery Bledel (the name I gave it.)
7. Dusty Rose (Adam Levine and Behati Prinsloo)
There are no pics so we don't even know if this baby exists.
10. Hugo Wilson Dallas (Ginnifer Goodwin)
I don't think this is her baby, btw.
11. Mabel (Russel Brand)
I couldn't find any pics. Once again, this is a sham of a baby.
I don't know. I'm sure the baby is a cool baby or whatever, but this name is very Trump supporter-ish.
This isn't her baby. It's a picture of a kid I found on her Instagram that I can't stop looking at.
Boomer is ranked this low because I was rooting for Phelps to call his kid "Poseidon Phelps."
15. Journey River Green (Megan Fox)
Say what you want about Rob, Blac Chyna, "Keeping up With the Kardashians" or whatever else, Dream is a cute baby who has more social worth than you will ever have. Her name is pretty shitty, though.
17. Jonathan Rosebanks Shulman (Anne Hathaway)
This is a dumb name for no other reason than OF FRIGGIN' COURSE Anne named her kid "Jonathan Rosebanks Shulman."
Citations: All of the Celebrity Babies that Were Born in 2016 (Celebuzz)