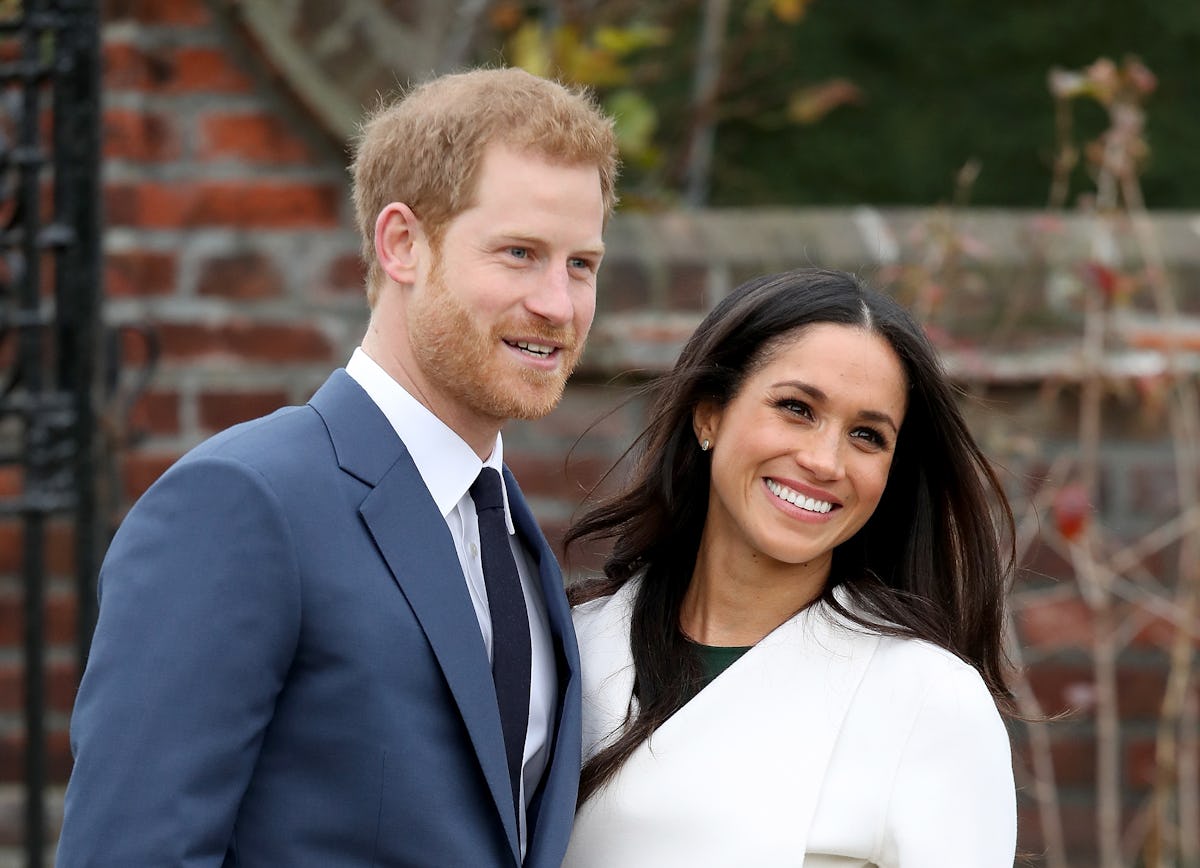 Photos Of Lifetime's Prince Harry & Meghan Markle Are Here & They're Spot On
Chris Jackson/Getty Images Entertainment/Getty Images
In my book, news of a royal wedding is not official until a Lifetime movie about the couple is confirmed. My inner royal fangirl delighted in the two TV movies chronicling Prince William and Kate Middleton's romance ahead of their April 2011 wedding, and it only seemed right that Prince Harry and actress Meghan Markle received the same cheesy, dubiously accurate treatment. Photos of Lifetime's Prince Harry and Meghan Markle actors behind the scenes of their upcoming flick have been released and, TBH, these leads are already winning over the Wills and Kate movies in terms of physical similarities to the real people.
The TV movie, called Harry & Meghan: The Royal Love Story, was confirmed in January. The film plans to begin at the time of Harry and Meghan's first date and cover everything up to their highly publicized engagement. According to Deadline, the official synopsis reads:
The film will examine the history of Prince Harry and Meghan Markle from the moment they met after being set up by friends, through their initial courtship when they were able to keep their romance under wraps, and ultimately the intense global media attention surrounding their relationship and Meghan's life as a divorced American actress.
In early February, 40-year-old actress Parisa Fitz-Henley was announced to play Meghan, while Murray Fraser was locked to portray Harry. Fitz-Henley and Meghan have scarily similar faces, so a casting department gets a gold star there. However, at first glance, Fraser wasn't a dead ringer for the ginger British prince.
Now, thanks to a behind-the-scenes Instagram photo posted by Fitz-Henley, my worries about Fraser's similarity to Harry have eased. It looks like someone got a very appropriate dye job!
The two stars got cozy on their first day of filming Harry & Meghan: The Royal Love Story, with Fitz-Henley writing in a caption, "Sweet Dreams to you." Is this bedroom scene a subtle reference to that cuddling bananas picture Meghan posted on her (R.I.P) Instagram?
Fitz-Henley also posted another cuddly snapshot to her Instagram Story.
Footage of Fitz-Henley entering her on-set trailer for the first time was also posted on her social media.
In true second-sibling fashion, it appears that this will be the only cinematic portrayal of Harry and Meghan's story, as opposed to both Lifetime and Hallmark producing their own William and Kate movies in 2011. Everyone loves a good college sweetheart story, so I don't blame them for that excessive coverage.
Lifetime's William & Kate: The Movie aired only about two weeks before the royal wedding on April 29, suggesting that the network will do similar scheduling with its Harry and Meghan movie. The big day for the couple is May 19, so maybe we can expect a movie premiere in the first week of May?
While this adaptation found itself an actress with a decent resemblance to Kate, it's clear that Lifetime found itself a more-suited Harry than William.
The Hallmark Channel aired its version of the couple's relationship, William & Catherine: A Royal Romance, in August 2011. Admittedly, I never watched this one in full, but its only winning point seems to be that it snagged Victor Garber to play Prince Charles.
British director Menhaj Huda, known for working on the E! series The Royals, will direct Harry & Meghan: The Royal Love Story. Another Royals alum, Scarlett Lacey, has written the film's script.
No other casting news for the movie has been announced yet, but I'm honestly hoping for some adorable child actors to play George and Charlotte. Who doesn't want a scene of Meghan bonding with her new nephew and niece? Bonus points if the movie refers to Kate being pregnant with Baby 3 during Harry and Meghan's engagement.
Until more hints about this movie are leaked, I'll be over here admiring Harry and Meghan's engagement photos again.