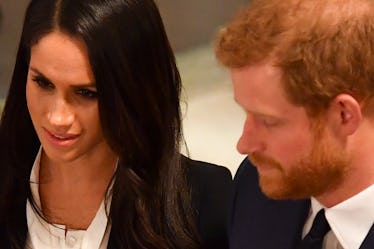 The Actor Playing Prince Harry In The New Lifetime Movie 'Harry & Meghan' Is So Perfect
WPA Pool/Getty Images Entertainment/Getty Images
Netflix's The Crown is slowly working its way along the timeline of Queen Elizabeth's life. They're moving along about a decade a season, which would put the upcoming wedding of Prince Harry and Meghan Markle sometime around the end of Season 7 or beginning of Season 8. But since they only just finished Season 2, that's far too long for fans to wait. Never fear, Lifetime is stepping in with a Harry & Meghan biopic, the leads of which were just announced today. But who is Murray Fraser and who is Parisa Fitz-Henley? And how qualified are they to be playing the royal couple?
This is not the first time Prince Harry has been portrayed on film. In fact, there's an English actor who's kind of made a career out of playing Harry up until now. His name is Richard Goulding, and he's portrayed a couple of different versions of the Prince. His more comedic version can be seen in the Channel 4 TV series The Windsors, which is a soap opera/parody of the royal family. He's also done a far more serious turn on stage in the drama King Charles III, which started out on London's West End before transferring to Broadway (Goulding played him in both.) It was then turned into a BBC film, which aired on PBS last year. (Goulding played him again in that.)
But while Goulding's impression is finely tuned after several years (King Charles III first hit the stage in 2014), his portrayal is a little, paunchy, shall we say? He's not as handsome as the real thing, which is part of the charm. Fraser, on the other hand, is very much the romantic's version.
Murray Fraser is known principally for his role in ITV's recent mini-series The Loch, where he played PC Jason Denny, one of the cops trying to help DS Annie Redford (played by Laura Fraser, no relation) solve the murder of murder of piano teacher Niall Swift (Jordan McCurrach.) He'll also be seen this coming week on PBS' Victoria, where he guest stars as Ewan, one of the romantic Scotsmen the downstairs staff encounters during their trip North with the Queen. Fans should assume his dreamy Scottish accent will not be part of the Lifetime series.
This will be the first time that Meghan Markle will be portrayed on film without it being herself in the role. The now-former Suits actress will be played by Parisa Fitz-Henley.
Fitz-Henley will be a little more familiar to American fans than Fraser, as she's a regular in Netflix's Marvel series playing Luke Cage's late wife Reva Connors, first in flashbacks in Jessica Jones Season 1 and then again in Luke Cage Season 1. We expect to see more of her in Jessica Jones Season 2, as Jones goes on the hunt to learn how Conners was involved with her, Cage and with Kilgrave, and if she knew anything about how they were turned into powered persons.
Both actors are pretty close to the real thing, with Fitz-Henley almost a dead ringer for Markle. We'll have to hope when the time comes, The Crown will also be so lucky.
According to Deadline, the film will cover which will chronicle the relationship of Harry and Meghan from their first meeting to engagement. Here's the synopsis:
Harry & Meghan chronicles the courtship and love story between a beloved prince and his new fiancée. The film will examine the history of Prince Harry and Meghan Markle from the moment they met after being set up by friends, through their initial courtship when they were able to keep their romance under wraps, and ultimately the intense global media attention surrounding their relationship and Meghan's life as a divorced American actress.
Harry & Meghan is due out this spring, timed to coincide with the royal wedding itself.