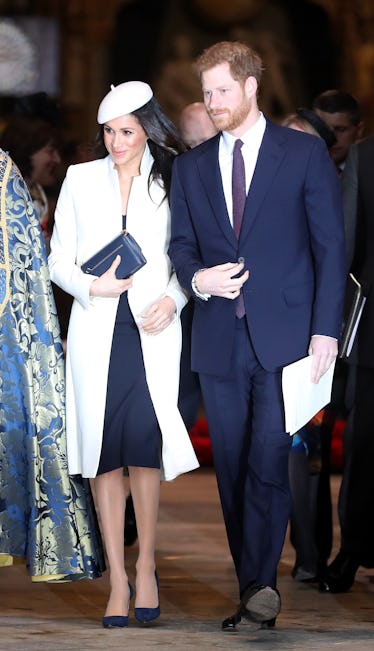 Here's What Prince Harry & Meghan Markle's Body Language This Morning Reveals About Their Love
Chris Jackson/Getty Images Entertainment/Getty Images
I remember the moment I knew my friend was going to dump her long-term boyfriend. She hadn't mentioned anything to her friends about her being unhappy with her partner yet, but one night, when we all went out, it was painfully clear — and it was all in their body language. Believe it or not, your body language with someone can tell a lot about how you feel about them. And especially for couples who we may not know a lot about, body language can come in handy. Prince Harry and Meghan Markle's body language, for example, tells us a lot about their love.
This Monday, March 12, the royal couple attended a church service at Westminster Abbey in honor of Commonwealth Day. People reports they were accompanied by other members of the royal family, including but not limited to Prince Charles; Camilla, Duchess of Cornwall; Prince William; Kate Middleton; and Queen Elizabeth herself. While we've all read about and heard many interviews in which the couple saying how in love and happy they are with each other, I commissioned the help of two body language experts to determine if the couple's body language on Commonwealth Day lives up to their totally-in-love hype. (Spoiler: It does.)
Read along and see what the experts were able to pick up from pictures of the two at this event.