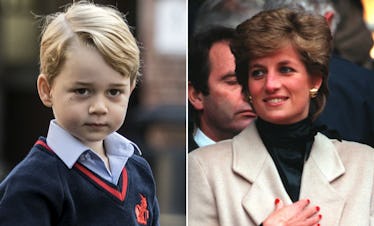 Prince George Has A New Hobby That Connects Him To Princess Diana In The Sweetest Way
WPA Pool/Getty Images; Pascal Rondeau/ALLSPORT
Leave it to Prince George to pick up the most adorable hobby anyone could ever imagine. The little Prince apparently has a new side gig that not only makes my heart sing but also connects him to his late grandmother, Princess Diana, too. You're probably imaging something regal like riding horses or quail hunting, but no. It's so much better. Prince George's new hobby is taking dancing lessons, and it's maybe the best thing I've heard all week. When I grow up, I want to be just like 5-year-old Prince George of Cambridge.
The Duke and Duchess of Cambridge, Prince William and Kate Middleton, recently met up with Teen Heroes from the BBC Radio 1's Teen Awards at Kensington Palace. According to Harper's Bazaar, William and Kate mingled with the young influencers who were being recognized for their charity work. In one video clip, William and Kate are spotted chatting with a finalist named Junior Frood who campaigns against bullying. Frood also revealed he is a street dancer. This apparently peaked Prince William's interest, who asked Frood, "Can you spin on your head? That's always what I ask people who do street dancing. I can't do it, I can't even dance properly anyway."
Kate sarcastically chimed in, "You don't break dance?!" Prince William responded, "No break dancing. If I were to break dance, I'd literally break myself!"
Despite Prince William's two left feet, Prince George is apparently working on his two-step. Prince William told Frood, "George is doing dancing as well, he loves it." In fact, the entire conversation seemed to strike an emotional chord with Prince William. He continued, "My mother always used to dance, she loved dancing."
Prince William wrapped up his conversation with Frood by saying, "If it's something you love, you do what you love. Don't let anyone else tell you otherwise. Keep at it."
Kensington Palace actually tweeted the entire conversation and put a spotlight on other Teen Heroes and their accomplishments with the caption:
Meet some of the Teen Heroes who will be recognised this afternoon at the @bbcr1 Teen Awards. The Duke and Duchess of Cambridge were honoured to meet them earlier this week at Kensington Palace and hear more about their incredible achievements.
I mean, is that not the most amicable version of Prince William you've ever seen?
Understandably, he and Kate have a lot to feel joyful about. With their dancing son, Prince George, charismatic daughter, Princess Charlotte, and shiny new baby, Prince Louis, this royal family's house is full of cheer and potential. Of course, the Duke and Duchess of Sussex, Prince Harry and Meghan Markle, are bringing a new niece or nephew to the lot in Spring 2019.
In fact, let's do some quick math...
In less than a year, the royal family has seen two engagements, two weddings, the birth of a new Prince and the announcement of another baby to come. If that isn't enough reason for this entire family to break out into a happy dance, I don't know what is.