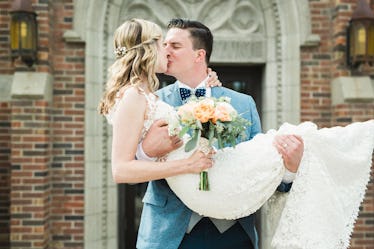 5 Things To Know If You're Planning A Church Wedding, According To A Wedding Planner
For some, saying "I do" in a church feels like a profound way to express the significance of their faith not only in their own lives but in the new joint life they are embarking on with their spouses. Not to mention, the aesthetic beauty of certain churches can provide an unparalleled backdrop for tying the knot. So it goes without saying that planning a church wedding comes with plenty of rewards — but it also requires special considerations as well.
According to The Knot's Real Weddings study, about 22 percent of ceremonies were held in some kind of religious institution in 2017 — a notable drop from 41 percent in 2009. The study revealed that many couples are opting to host their weddings in unconventional spaces, such as farms, ranches, historic buildings and homes, public gardens, museums, and wineries. Still, those who have a strong faith may feel adamant that a church is the right place to officially declare their lifelong commitment.
"It's a wonderful way to celebrate your religion," says Mandy Connor, founder of Boston-based Hummingbird Bridal and Events.
That said, planning a church wedding often means abiding by certain rules that may pose limitations on how the ceremony goes.
"I tell my couples that they are beholden to the rules of the church even in reformed churches with looser regulations.," explains Connor. "But it's not meant to be suffocating — it's simply meant to pay respect to the religion in the way it deserves."
Thinking about tying the knot in a church? Here are some important things to keep in mind in order to ensure your big day is everything you dreamed of.