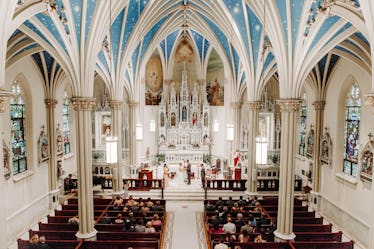 19 Stunning Photos Of Church Weddings That'll Make Your Jaw Drop
If there's one thing that all weddings have in common, it's that they're all beautiful. Whether you get married in the summer or the winter, indoors or outdoors, in a courthouse or at a church, weddings can be incredibly breathtaking. There are countless killer backdrops for you to choose from when it comes to where you and your soon-to-be spouse decide to say "I do," churches only being one. And while long gone are the days when weddings would only take place in churches, they still serve as gorgeous backdrops for your special day. These stunning photos of church weddings are seriously impressive.
When it comes to weddings, you and your future spouse should get to have the final say in everything. If you want to get married in front of hundreds of people in a traditional ceremony, that's great! If you would rather run away together and get married somewhere in the countryside, just you two and your closest friends and family, that's also great! Your special day is what you and your boo make of it. However you choose to celebrate your love and vow to be together for as long as you both shall live will be amazing, because it's your day. While a church wedding may not be your cup of tea, for some people, it is, and with these stunning photos, I'm not entirely surprised.